"Have You Ever Seen Paper??" Update 3.3 Released
Posted by: Dave on steam_community_announcements June 29, 2020
Ahoy drifters!

We've shipped another update for you all. This update iterates on the research system.

We've made research a more active process. Instead of having to collect research points, you will now have to collect books. These books will need to be researched in a brand new building, the research station!
There's a new building to process your seaweed now, the chop shop. You'll need this to make bird chow, the new food for the seagulls.
Additionally, we've smoothed out some of the landmark interaction to give more control of what you want to salvage.

Enjoy the new update!

[h2]Change Notes[/h2]
General




Added construction:
* Research Station: A place to process and read all your acquired books.
* Chop Shop: A place to prepare seaweed and fish for seagulls.

Added item:
* Book: These old books contain old knowledge that might give you ideas for new buildings.
* Bird Chow: Fish cut into tinier pieces so that your birds can eat them safely.
* Seaweed Salad: Cleaned up seaweed, thrown into a salad bowl, that will provide nutrition for your drifters.

Added landmark:
* Intact Book Shop: An island where you can find 12 books for your research!




Gameplay




Iterated on research:
* Research now requires a building, the research station, to research in.
* Research has now become an active process that requires drifters and time.
* Researching requires books, which need to be stored in the town (these can be found on certain landmarks).

You can now change the amount of drifters salvaging a landmark without having to cancel it.

You can now change what resources you want to salvage on a landmark.




Balance




Added 1 to 3 books to every shack landmark.

Seaweed found on landmarks needs to be processed in the chop shop before it can be eaten.

Increased amount of fish spots spawning by 30%.

Decreased seagull speed by 20%.

Seagulls now eat Bird Chow instead of Raw Sardines.

Decreased seaweed island amount by 33%.

Reduced sushi amount made in the Food Truck from 5 to 4.

Research costs

Decreased Large Storage Yard research cost from 10 to 8.

Decreased Platic Recycler research cost from 15 to 12.

Decreased Small Water Container research cost from 5 to 3.

Decreased Water Storage research cost from 10 to 6.

Increased Birdhouse research cost from 10 to 8.

Increased Desalinator research cost from 15 to 32.

Increased Fish Kabob research cost from 5 to 12.

Increased Fishing Hut research cost from 15 to 25.

Increased Food Truck research cost from 10 to 25.

Increased House research cost from 5 to 8.

Increased Scrapsmith research cost from 5 to 14.

Increased Solar Still research cost from 10 to 15.

Building costs

Decreased Research Station plastic waste cost from 12 to 8.

Decreased Research Station dried wood cost from 15 to 10.

Removed pipe cost from small water storage.

Add 4 dried wood cost to small water storage

Removed 2 screws cost from Fish Kabob.

Added 4 metal cost to Fish Kabob.




UI




Overhauled the research UI:
* Added more information to that buildings you are researching. This includes things like available recipes, storage capacity, housing slots, etc.
* Whenever research is done, a notification is added telling you something new is researched.
* Reworked window to be bigger and more prominent.
* Updated art assets.

Removed mussel from drifter diet.

Updated research survival guide.




Fixes




Fixed salvage button icon staying disabled when the button is enabled.

Fixed issue where some text wasn't correctly parsed.

Other Flotsam News
---
Further Back
Flotsam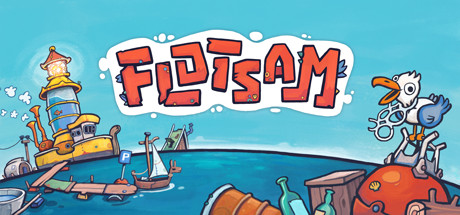 The floating garbage town survival game! Scavenge what precious garbage you can from the ocean's surface and grow your city while doing your best to survive in this colorful post-apocalyptic world.
Developer: Pajama Llama Games
Publisher: Kongregate