Update 3.4: "Quality of Life v2" now ready for testing!
Posted by: Schtan on steam_community_announcements July 10, 2020
Ahoy drifters!

We're pleased to announce that we have another update ready to test for you all. This update iterates on the user feedback UI and adds new languages.

We did a rework of the notification and user feedback UI to improve the general player experience.
Part of the community has been translating new languages for some time now. We're adding Ukrainian, Turkish and Danish with this update. If you'd like to help as well, head over to Localizor to get started!
To the established translators, thanks for the hard work!

We invite you all to test this update and find any issues before we upload it to the main branch.

When bugs occur, provide as much information as possible to help us resolve these faster!
Read here how to submit and track the current bugs in the game.

This patch is still in development and can be tested on the experimental branch to give feedback.

This is how you can enable the experimental branch of Flotsam. This will only work when you're not in a game:
1. Open Steam Library
2. Right click Flotsam
3. Select Properties
4. Go to tab 'Betas' at the top.
5. Select 'Experimental' in the drop-down.

Enjoy the new update!

[h2]Change Notes[/h2]
General




Added languages translated by the community:
* Ukrainian
* Turkish
* Danish




Visuals




Tweaked movement of seagull to favor flying higher.




UI




Added button to toggle item export for the birdhouse.

World icons don't scale with camera anymore.

Decreased number of malfunctions that can appear above constructions.

Updated buildable panel layout.

Added a status panel to constructions.

Added several new malfunctions to indicate errors with a construction.

Added several status messages to indicate the current status of a construction.

Updated notification visuals and layout.

Notifications can now stack.

Added notification log to review previous notifications in the game.

Added new notification:
* Research panel unlocked.
* Salvage radius increased.

Moved several notifications to warning bubbles.

Added warning bubbles:
* Bird about to leave.
* Bird homeless.
* Drifter homeless.
* Drifters idle.
* Drifters in life danger.

Added warning to food counter.

Added warning to water counter.

Added warning to assignment panel for unassigned agents.

Added highlight on unviewed category tabs in the survival guide.




Performance




Changed world icons to use sprites to improve performance.




Fixes




Fixed issue with landmarks showing on the map, but not showing in the game.

Fixed issue with missing chop shop description.

Fixed issue with fuel notification not showing when building a distiller.

Fixed issue with overgrown boat navmesh.

Fixed issue with shack navmesh.

Other Flotsam News
---
Further Back
Flotsam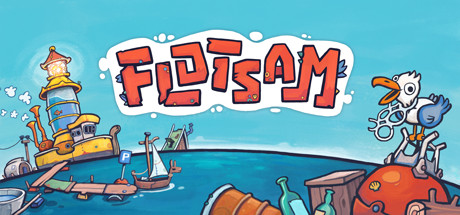 The floating garbage town survival game! Scavenge what precious garbage you can from the ocean's surface and grow your city while doing your best to survive in this colorful post-apocalyptic world.
Developer: Pajama Llama Games
Publisher: Kongregate