AoT Upgrade news - end of the line?
Posted by: Duck Whitman on steam_community_announcements June 30, 2020
Okay, so here's the deal:

The Army of Tentacles 1 remaster is hitting some snags. The easiest to work on right now is that it is getting way too big file size-wise - bigger than the original size by far. So I don't think it is fair to drastically change the file size for an existing userbase. Which leaves the project with three options:

1) Release it as a separate, free DLC instead of a free patch
But, if we're going to do this, we would have to throw in the new backgrounds as well (since there's absolutely no point in having DLC for DLC), and by then, we'd basically be selling the same game as a paid DLC. Which, while it is not unprecedented for a DLC to overhaul a base game's mechanics, it wouldn't serve the original purpose of the remasters, which was for every pre-exisiting and future user to have a retooled game.

2) Only upgrade the resolution
This way, we'd still be able to sell the new backgrounds as an "HD 4K OMG LOLLERS" DLC for those that want a bit more of the game's backgrounds but still like the base game.

But that would potentially still increase the base game file size for existing users.

3) Make a new Army of Tentacles game entirely, scrap the upgrade patches altogether
Obviously, if this happened, it would probably be the same price as the original game ($4.99) and use the art from either AoT 3 or [OTHER SECRET IN-UNIVERSE PROJECTS].

While this would be the easiest option, as of now, it's not the most ideal for us.

[h2]Going forward...[/h2]
No idea what we are going to do yet, but we will let you know when we do have one.
Other Army of Tentacles: (Not) A Cthulhu Dating Sim: Black GOAT of the Woods Edition News
---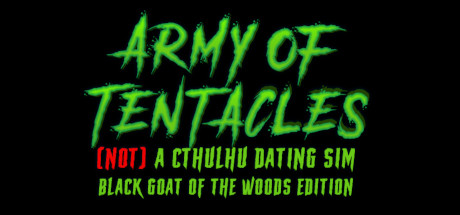 Further Back
Army of Tentacles: (Not) A Cthulhu Dating Sim: Black GOAT of the Woods Edition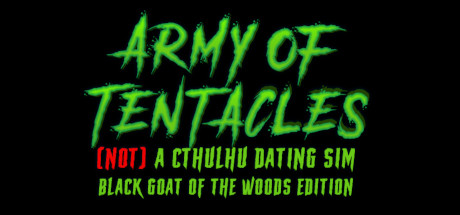 Experience the non-groundbreaking, non-award winning VN/RPG, Army of Tentacles, in all its DLC glory! Comes with New Game+ Benefits, the most amazing Cthulhu Dating Sim in the universe, as well as Halloween, SDCC, the Sequel outfits, and the item packs!
Developer: Stegalosaurus Game Development
Publisher: Stegalosaurus Game Development