"Have You Ever Seen Paper??" Update 3.3 now ready for testing!
Posted by: Dave on steam_community_announcements June 4, 2020
Ahoy drifters!

We're pleased to announce that we have another update ready to test for you all. This update iterates on the research system.

We've made research a more active process. Instead of having to collect research points, you will now have to collect books. These books will need to be researched in a brand new building, the research station!

We invite you all to test this update and find any issues before we upload it to the main branch.

When bugs occur, provide as much information as possible to help us resolve these faster!
Read here how to submit and track the current bugs in the game.

This patch is still in development and can be tested on the experimental branch to give feedback.

This is how you can enable the experimental branch of Flotsam. This will only work when you're not in a game:
1. Open Steam Library
2. Right click Flotsam
3. Select Properties
4. Go to tab 'Betas' at the top.
5. Select 'Experimental' in the drop-down.

Enjoy the new update!

[h2]Change Notes[/h2]
General




Added construction:
* Research Station: A place to process and read all your acquired books. (Art WIP)

Added item:
* Book: These old books contain old knowledge that might give you ideas for new buildings.




Gameplay




Iterated on research:
* Research now requires a building, the research station, to research in.
* Research has now become an active process that requires drifters and time.
* Researching requires books, which need to be stored in the town (these can be found on certain landmarks).




UI




Overhauled the research UI:
* Added more information to that buildings you are researching. This includes things like available recipes, storage capacity, housing slots, etc.
* Whenever research is done, a notification is added telling you something new is researched.
* Reworked window to be bigger and more prominent.
* Updated art assets.

Other Flotsam News
---
Further Back
Flotsam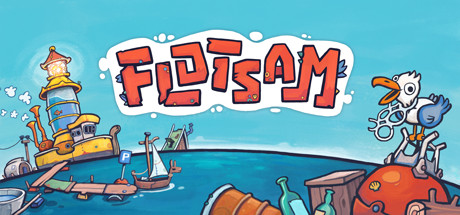 The floating garbage town survival game! Scavenge what precious garbage you can from the ocean's surface and grow your city while doing your best to survive in this colorful post-apocalyptic world.
Developer: Pajama Llama Games
Publisher: Kongregate