Version 1.02 published
Posted by: Two Wizards on steam_community_announcements May 22, 2020

Core mechanics:
- 3 additional item presets.
- 32 new upgrades.
- Green catalysts gain cap now starts at 1000. This can be increased by a new memory upgrade.
- Completed trials value can now be increased by new memory upgrade.
- Spells' and Weapons' values that scale from mana sources now include additional sources (like the ones gained from red catalysts).

Balance:
- Some of the upgrades costs rebalanced.
- Convertion rates into memories rebalanced.
- Green catalysts drop in expedition reduced overall. Blue catalysts drop in expedition increased.
- Catalysts drop in expeditions now diminish as you earn more within a short period of time. The amount is then gradually restored over time.
- Idle expedition now continues the run up to 100% after losing a battle instead of abandoning it. No reward is given for the lost encounter, but further ones are unaffected.
- Time of idle expedition is now based on encounter difficulty and your level.
- Forge. Potential amount of slots increased to 12 (was 6), base amount of slots is 2 (was 1).
- Forge. Base speed of recovery doubled.
- "Expanded Mind" Memory upgrade. Maximum level increased to 10 (was 2), the cost was reduced and rebalanced accordingly (base cost is greatly reduced, but the overall sum is now greater).
- "Temper The Steel" spell. Passive effect reworked, the old effect is now scales from current amount of casts (changed to an active effect). New persistent effect.
- "Gem Resonance" spell. Now scales from mysteries.
- "Voidlight Amalgam" pet. Void profits bonus scaling increased.
- "Planned Progress" Memory upgrade. Now increases Idle and Offline bonus.
- Mechanos Apexis pet. Scaling from pet active time when it's over 3 days is now stronger.
- Abolisher main ability bonus increased.
- Alchemist main ability bonus increased.
- Ironsoul main ability and berserk stance bonuses increased.
- Desolator elixirs bonuses increased.
- Temporalist. Scale from time and skipped time increased.

And many bug fixes.
Other Idle Wizard News
---
Further Back
Idle Wizard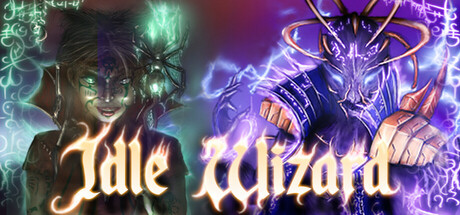 RPG/Idle hybrid about becoming the most powerful wizard there is. Pick a class, get a pet, configure and improve your character in a myriad ways!
Developer: TwoWizards
Publisher: TwoWizards