Open Development Week #118: Story Update is Live!
Posted by: LucyG on steam_community_announcements February 18, 2020
Hey Hunters,

How have you been?

It's been too long since our last update, but I hope it was worth the wait - we finally have our Story content available for the first time EVER!


Meet The Professor and many new characters

This is a very brief preview, showing the opening of the game and the two first Story missions. It should last between 40-60 minutes to go through.



Combat Changes



This is also the official release of our Combat 2.0 Update. It brings a LOT of core changes to how combat, skills and enemies work. You can get the full rundown on our last update about it.

Team up and set up some cool Combos!



New Hunter: Seven



Last but not least, we have a new character in the game, with their full skill kit: Seven, the Time-Traveller.

Seven can be customized by you when the game starts, choosing gender and Star Sign. In the future, Star Signs will be meaningful for gameplay - but for now they are just flavor, pick whatever you want!


Seven charging the Maelstrom skill

Here's a rundown of Seven's kit:

[h3]Blink[/h3]

Seven blinks forward in time. Has 3 Uses. Blinking through enemies marks them with Paradox Mark.

[h3]Shift Strike[/h3]

Seven jumps forward in time to punch an enemy, dealing 150 Water damage. Marked enemies are Frozen for 3 seconds. This skill is an Elemental Combo Detonator.

[h3]Re:Alignment[/h3]

Recovers Seven's Shields instantly. All nearby Marked enemies explode with Water damage. All nearby enemies with Paradox Mark take 100 Water damage.

[h3]Paradox Mark[/h3]

Enemies hit by Seven's skills may receive a Paradox Mark which reduces their damage output by 30% and triggers special effects from some of Seven's skills.

[h3]Maelstrom[/h3]

Seven charges a powerful void rift that pulls enemies into it before exploding. This skill can be charged to become more powerful. Pulls enemies in for 1 second and Mark every one with Paradox Mark. The explosion Primes enemies for a Combo. The explosion deals 100/140/180 Water damage.



This year is just beginning!




The dangerous Cobran Captain!

There is much, MUCH more to come. Team Artemis is working on the Enemies Update, which will grow the enemy roster to 26 different enemies (that's right, TWENTY SIX!).

Team Voyager is working hard on story content for our Beta release, which will be about 8-10 hours of gameplay and continue the time-travelling adventures of Seven and the Relic Hunters. You will meet new allies, new enemies, face the fearsome Supreme Commander Krek and the mysterious Timekeepers. All in due time.

Time...

It's time for you to download the Update right now on Steam!

Don't have access? Support the game by becoming a Founder and play now!



Come watch our stream!



Even if you are not a Founder, you can check out Lucy's stream on Friday to watch the opening gameplay of the story, and hang out with us!

Come watch our livestream this Friday, February 21st, at Noon Pacific Time on Twitch.



We'll be at PAX East 2020!



We are proud to announce that we'll be with Indie MEGABOOTH at PAX East in Boston next week!



Come say hello at our booth (#230034) - me, Betu, Lucy and Nath will be there to meet you and play some Relic Hunters! <3

Also keep following us on our media:
Facebook
Twitter
Instagram

Cheers!

~Mark


Other Relic Hunters Legend News
---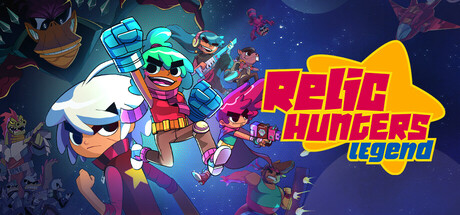 Relic Hunters Legend - November 22, 2019
We're starting a new event: EMOJI CONTEST. We have 54 slots free on our Discord Server and we want to have emojis from our community there!
Further Back
Relic Hunters Legend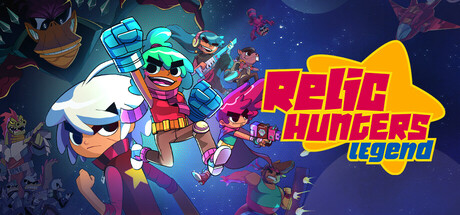 Fast. Fluid. Fun. Free. An online cooperative Shooter/Looter/RPG. Gather up to 4 friends, gear up, and save the Galaxy from a terrible villain who has stolen the past!
Developer: Rogue Snail
Publisher: Rogue Snail