Updated to 1.47
Posted by: Celtreos on steam_community_announcements February 14, 2020
The next Celtreos patch is live!



New Default Weapon "Beam"


The Weaver Series now has its own incredibly cool default weapon (also available in custom arrays)!  The Beam is a mostly-horizontal attack that adds more and more rays of energy as you power up, either over time or by collecting "+" power-ups.  This weapon is initially quite weak but is extremely powerful at maximum strength.  Also, it penetrates any type of barrier, is easy to aim and you effectively gain even more rays by using defenders like the Shadow.  Certain weapons fire default shots at the same time so you may want to try these weapons with Beam (or any other default weapon choice in a custom array) for some interesting combinations!



New Defender Pod, "Trailer"


This is similar to Shadow except it shoots backward instead of forward.  This pod is now part of the Plasma Series.  It is also available in custom arrays, and keep in mind that this allows you to shoot any default weapon backwards: Gun, Laser, Rocket, or Beam.



New Enemies


A new type of enemy ship now appears in two stages, Colony Evacuation and Last Stand.  These small vessels attack from behind, in groups, shooting lasers and dropping bombs.  Be careful!



Artwork and Animation Improvements


As usual, a lot of tweaks throughout the game, and this time you will notice it right at the beginning because even the Options Screen has a cool new background.



Music Updates


A couple of songs have had some minor improvements, and volume has been slightly adjusted to make songs more similar across stage transitions.



Standalone Soundtrack


A reminder, the soundtrack is now available separately on Steam!  See the main store page for "Celtreos" and look under "Content For This Game".  The latest tweaks to the in-game soundtrack are also present in the standalone soundtrack.
Other Celtreos News
---
Further Back
Celtreos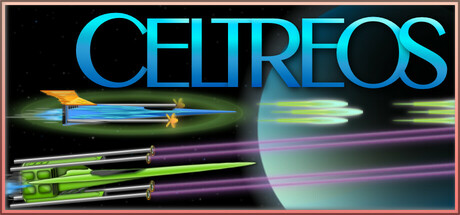 1-2 players, game controller support. NO in-app purchases. Nearly 45 minutes of music! Over 10 detailed stages, partly-random, with bosses. Tons of weapons, guards and special moves. Play in a window or in Full Screen.
Developer: Kevin M. Grant
Publisher: Kevin M. Grant