News about the game engine development, Free content and more...
Posted by: IcanY on steam_community_announcements January 19, 2020
News about the game engine development



This is the announcement from the game engine development company. (When update is complete, Voltage and DLC:s will get some new functions/performance updates!):

We've been moving steadily (and stealthily 😉) towards a solid plan for 2020 and are super excited about the announcements we will be able to make very soon! Although you can probably guess it involves new UI, new multiplayer, new performance, new character creator and some new stuff that will make 2020 a year to remember in the history of GameGuru. We do listen intensely to our community but, being a small team, it takes us a little longer than the big boys to respond with improvements, however our official news later this year will hopefully be well worth the wait.

[h2]Ongoing Bug-Hunt competition[/h2]

We would like to remind you about ongoing Bug-hunt competition: If you found a bug from Episode 1, you can post your report to here or under the topic on discussion area. Episode 1 has been graduated from Early Access, but we are still developing and improving the game. However more focus on development is now on the second episode.

What can I win in Bug Hunt Competition?




5-25 USD Gift cards, that you can use to buy any game

Keys to Games

More will be invented



How can I take part to Bug Hunt Competition?
Post a bug report here under this discourse.

How do you choose the winners?
We arrange a lottery X time per X months, and reports which have been posted here are taking a part to the lottery. There will be 1-3 winner per X month.
Person who have found biggest bug of the month will receive special prize.

Where can I report bugs?
Reports should be posted under this announcement or to the discussion https://steamcommunity.com/app/798710/discussions/0/1743343017631919166/

This is our way to reward you for helping us develop the game.

This Bug Hunt will end on 31. January but we suggest you to post reports before that time, because Bug Hunt typically last about a month, but if we get important reports bug hunt can be 2 weeks long and continue after that.

[h3]Voltage - Original Soundtracks released![/h3]

https://store.steampowered.com/app/1105060/Voltage__Original_Soundtrack/

We recently converted Voltage - Original Soundtracks DLC to Soundtracks, so now you can buy and enjoy these soundtracks even if you do not own the main game! Bug about Soundtracks has been fixed, thank you BigBodZod to reporting that to us!

[h3]Voltage: Episode 2 free for a limited time![/h3]

Free for limited time! Episode 2 will remain free for you, if you have bought the main game before 31th Januayry.

After you have claimed it on Steam, you should now be able to launch this DLC directly from the main game menu! You must own the Voltage main game in order to play Episode 2).

https://store.steampowered.com/app/1004480/Voltage_Episode_2/

Best regards

Voltage Development

Other Voltage News
---
Further Back
Voltage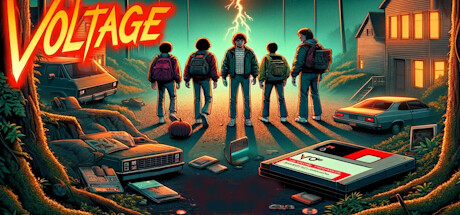 RETRO RAMPAGE FOR PC! Set in the town of Frontier, Missouri, in the 1980s, young man called Mark finds a prototype of VR-glasses. And to his surprise, the glasses are compatible with his Amiga 500. He launches a game and step in to an incredible adventure..
Developer: F-Games
Publisher: JTS Development