The Lots of Little Things Update
Posted by: TonyDanza on steam_community_announcements September 11, 2019
Greetings and salutations! Prepare for incoming patch... oh no too late, it's already here -- AAAGH *static*.

That's right, we've been tinkering away on lots of little fixes and changes. It's a real grab bag, so check out the patch notes below to find out all them lil bits. Also, get hyped for the next update that will have some Big Things™.

Vox Machinae's birthday is coming up, too. ːcleancakeː It's been almost a year in Early Access. We still have many things we want to jam in there before we let it escape, so don't think we're gonna leave you hanging; there are lots of updates to come.

0.34.0 alpha




Fix bug that caused projectiles to not hit Drill's upper leg, making them very difficult to destroy.

Fix Drill sometimes falling at extreme speeds when using the drill/downward jets.

Add support for CH Pro Pedals USB.

Voice chat screen shows correct reflections on pilot depending where they are instead of where you are.

Fix voice chat screen incorrect pilot shoulder poses when more than one person is talking.

Balanced the difficulty on Convoy co-op mode.

Turning jets now have their own unique sound effect and do not trigger the regular jump jet effects and vibration.

Objective screen now shows up to 4 player/team scores and has a new layout.

Fix bug which could cause effects to not appear if they were in the zoom scope view, but not the main/eye view. This mainly occurred when using the Hammer missile cam.

Improved "commit" effect for Hammer missile.

Network bandwidth optimizations.

Improved smoothness of rotations on GDRs.

Added support for UPNP protocol on the server, improving the odds of successfully connecting to a player-hosted game if the host's router supports the feature.

Improve networking ability to handle corrupted or invalid messages.

Four new hats added. A new matching achievement exists for each hat.

Cooling geysers have erupted on Cryptic Tundra. Jump in and beat the heat!

Reduced CPU load by approximately 10%, improving framerates on CPU-bound systems and reducing the chance of missed frames in VR.

Added "Scramble Teams" option under the Teams menu in the match config.

Grinders now have different radar ranges, with lighter classes having higher range than before, and heavier classes having lower range than before. The radar range is shown on the radar monitor.

Fixed hands being rendered with one frame of delay. This fixes problems such as the jumpjet stick intersecting the hand and makes the hands feel more responsive in VR.

Greased lightning! No one is going to make you drive 55, because being struck by lightning now refills your fuel.

Added different briefing for deathmatch with no teams (free-for-all).

Fix bug that caused starting a training mission to fail if you are currently hosting a match.

New sound effect when hammer commits to its target, audible to those around it.

Stockpile scoring system changed to award points after holding for specific amounts of times, capping off once full. Points are also awarded for neutralizing an enemy factory.

Salvage spawning location rebalanced for more fair locations.

Salvage respawn penalty to defending team now reset once new Salvage has spawned.

Increased health on Hopper's arms to be able to survive one railgun hit.

Fix bug which caused Drill's main weapon aim to be very slightly off target.

Fix bug which prevented FreePlay dedicated servers from restarting themselves automatically and causing server performance issues.

Fix hand pose when grabbing the throttle.

Drill downward jets now have no fuel cost and propel straight down instead of trying to assist towards the nearest enemy.

Fix controller vibration playing when a detached limb impacts something.

Fix controller vibration playing when an enemy shoots your detached limb.

Add "-platformmic" launch argument to use experimental platform-provided mic input. Oculus Store = Oculus SDK. Steam = Oculus SDK for Oculus VR Mode, otherwise Steam SDK.

Reduced respawn time in Convoy mission.

Remix options can now be used on Convoy mode. Beware, enemies can benefit too!

Fix glowing paint on Grinder cockpits on some video cards.

Fix microphone cutting out after switching audio output while the game is running.

Lasers now count a hit if the laser touches an enemy at any point of the beam's duration instead of only at the start. (for accuracy tracking purposes)

Enemy factories that show up in Convoy mode now capture by proximity, consistent with Stockpile mode.

Other Vox Machinae News
---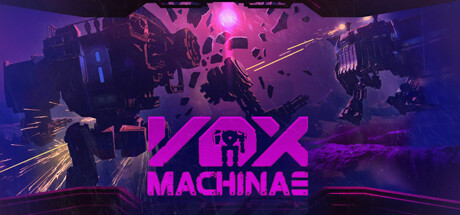 Vox Machinae - December 31, 2019
Happy New Year, pilots! ːwinter2019happydogː
Further Back
Vox Machinae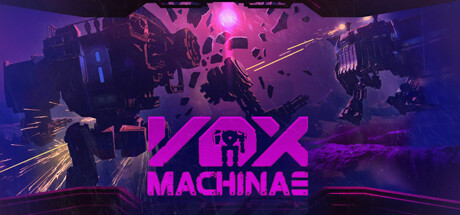 Strap yourself into the cockpit of a robot seven times taller than a Tyrannosaurus Rex and prepare to do battle in Vox Machinae: the ultimate giant robot combat action-simulator for both VR and standard screens.
Developer: Space Bullet Dynamics Corporation
Publisher: Space Bullet Dynamics Corporation