Сhanges for June
Posted by: Koker 007 on steam_community_announcements June 21, 2019
Global change




Added a free demo where you can play only up to level 3 inclusive.

Сhanged the principle of removal of destroyed objects, any object will be deleted in 90 seconds, but if you don't pay attention to it then it will happen earlier. (30 seconds)

Added zone spawner

Button "Advises" rename to "help"

The boundaries of the angle of view increased from 75 to 85

+2 phrases when loading

phrase reading time during boot has been increased

"Presure" rename to "Pressure"

long nicks are now placed in the results table




LVL 1




sink tap is now one whole object

Added achievement for completing level 1 in less than 60 seconds




LVL 2




the emptiness of the bottom of the trees was closed

tree weight was reduced 3 times

Obama was removed from advertising "WTF" because players think it's racism. although I added it because there was a parody of KFC and Obama ate chicken.

the bottom of the fire hydrant is no longer transparent

added fire hydrant sprays rising all physical objects

added achievement for the destruction of the fire hydrant




LVL 3




if the car rolled over it can no longer move and takes damage, therefore the probability of traffic jams is less

the police appear earlier and turn towards the player more often




LVL 4




now the tank may appear as a car and move along the road, but approaching the player switches to usual behavior

tanks now stop moving if they turn over, but do not take damage like a car





What's next?
So far I will not deal with improving the game, because it sells very badly. I sent 1000 keys to famous bloggers and YouTube streamers, but I suspect that because of the theme of this game, they don't want to talk about piisim. from 1000 keys sent, only about 13 videos were made. It is very small.
In the near future there will be a big discount due to the fact that the game still needs to gain 10 reviews.
In 3 months only 130 copies of the game were sold, of which 12 were returned. since the game was sold mainly during the discount, I earned only $ 150. I started creating the game exactly a year ago. on this 150 dollars per year is a very ridiculous amount. I expected that I would have enough at least for food and to pay bills for an apartment. so please your understanding.

Perhaps you wonder how the idea of creating this game came to me, so I'll tell you. It was still in 2016, I went to a small wooden toilet and this toilet was so old that it seemed to me that I could just fall into it if I did anything wrong. I thought that for sure there is a game where you have to destroy everything with your own stream, but I did not find this. In the summer of 2018, I decided to start developing this game. the idea was so insane that it was planned to do so that at the end you could put out the sun. but the development turned out to be a little harder than expected, that's why this tsunami is the last game event.
There were ideas about how to make a cooperative where 2 players compete in destruction. where they start with a public urinal, destroying the wall moving forward through the offices and out through the front door to the street. With these offices, lvl 2 would be much more interesting, but due to the complexity of development and the lack of a budget, they had to be abandoned. Because if I did this alone, then most likely I would spend a lot of time on develop.

I hope you really had fun playing piisim. if the game is suddenly gaining popularity, of course I will continue to make it further. but for now, I will be busy with the next project, information which you can find out among the piisim files.Thanks for playing.
Other PiiSim News
---
Further Back
PiiSim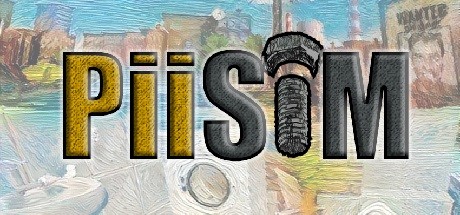 This game with absurd humor. Pee in the toilet, break the toilet, washing machine, make a hole in the wall, piss the police, destroy the city.
Developer: Koker_007
Publisher: Koker_007