HUGE giveaway, explore the Voltage: Episode 2...
Posted by: IcanY on steam_community_announcements June 20, 2019




Voltage: Episode 2 has been released!



Episode 2 has been uploaded but is does not shown under DLC:s in our end. It might be possible that you are not able to download it either without using Key. We are working to fix this issue, but in the meanwhile, you can access to Episode 2 by using these Keys! (you must own the Voltage main game in order to play Episode 2).

Episode 2 will remain free for you, if you have bought the main game before 30th June.



In Voltage: Episode 2: Beta



In this Beta-testing stage, you will be able to explore large open world/areas. This bring totally new dimensions to the gameplay, since there are not much enemies present and that's why mission briefings are missing.

So this is excellent opportunity to explore these new large Worlds, before the enemy arrives...

W8FGZ-YIAX0-NCJN0
T6I6K-2ALW2-ARNA3
T9MHP-2CIWF-GKCZG
W458W-EDPGV-03X73
NM7CT-BV4TC-MPATT
FN9Y6-MJ43Y-PA38M
RDFV0-7V0B3-RYDM0
ZXPJT-CYI8C-3B033
P0IPN-R0J2X-D6HCK
6XCRY-L5VEG-9BYPB
J7NZB-3VN8C-BWQGN
RBVIY-4HXKQ-292EY
0H6Q6-B2I9Z-FNYDR
FTHWY-0VVFL-0KE2I
F2863-9ITY4-FYIVL
3BHZR-GYP6L-N5N02
XXWD5-52NVE-4IYCX
842F7-NFTHT-VYZTH
RLBH2-Z36YZ-7D2D7
7D6Q9-CF258-68A96
I6B2F-0X474-X260A
4064V-YLNX6-VJTPX
B3MAY-FQGGY-8RYIY
29QW8-JDYCX-A5BWL
738PG-6YMY5-5KVBM
IEHIX-8B57A-5HE9F
305V0-DNPK4-4EQAQ
T4PEV-AP4CI-JACTQ
6XEML-96Y5R-EAJTK
FYWYQ-FEQKP-M2B4V
XL9AC-IH9ZA-QEEFW
9777L-JGR3Q-Y4NQF
X0BG4-KQMM5-KVXT5
K345E-G99VY-B9V5V
JVM4G-WVEL2-8CTN0

https://store.steampowered.com/app/1004480/Voltage_Episode_2/



How to play this DLC?


Accessing to this DLC seems to be currently a little bit more tricky than other ones.

To play this DLC, first USE THE KEY and activate it in Steam. Go to your Voltage folder and seek Episode 2. [You can also try to start the Voltage main game and launch it from the game menu, but we are unable to test this feature due the issue about packages].

Best regards


Voltage Development
Other Voltage News
---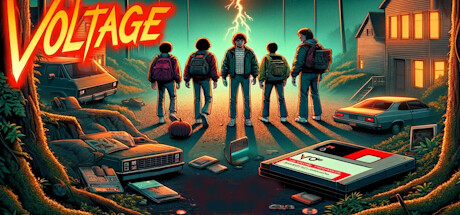 Voltage - January 19, 2020
This is the announcement from the game engine development company. (When update is complete, Voltage and DLC:s will get some new functions/performance updates!):
Further Back
Voltage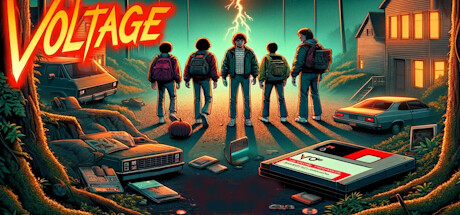 RETRO RAMPAGE FOR PC! Set in the town of Frontier, Missouri, in the 1980s, young man called Mark finds a prototype of VR-glasses. And to his surprise, the glasses are compatible with his Amiga 500. He launches a game and step in to an incredible adventure..
Developer: F-Games
Publisher: JTS Development