Voltage - Original Soundtrack DLC has been released!
Posted by: IcanY on steam_community_announcements June 17, 2019




This music DLC contains 22 carefully edited, ready-to-listen soundtracks from Voltage Episodes 1 and 2.

New soundtracks will be added to this DLC during the development, so by buing this now you will be able to enjoy new content during the development!



Genres:[/12] Dance, Dubstep, Electro, Rock, Melancholy, Pop, Relaxing, Rythm and Rap.

1. Other Side (length 5 min 23 seconds, .ogg)
2. The Illusion (length 2 min 54 seconds, wav)
3. Whispering Shadows (length 3 min 32 seconds, .ogg)
4. A Dream That Came True Mix2 (length 2 min 59 seconds, .wav)
5. A Dream That Came True (length 3 min 05 seconds, .wav)
6. How (length 3 min 35 seconds, .wav)
7. The Dream (length 3 min 07 seconds, .wav)
8. Fever (length 2 min 51 seconds, .wav)
9. Last Sunrice (length 4 min 01 seconds, .wav)
10. Main theme Sinfonia intro (length 1 min 05 seconds, .wav)
11. Melancolia (length 2 min 34 seconds, .wav)
12. Evening (length 1 min 56 seconds, .wav)
13. Peaceful (length 1 min 36 seconds, .wav)
14. Global Warning (length 4 min 25 seconds, .wav)
15. Shamanic Dimension (length 3 min 38 seconds, .wav)
16. Uskomaton (length 2 min 34 seconds, .wav)
17. Mystery drum & bass (length 0 min, 46 seconds .wav)
18. Deep Electro 1 (length 2 min, 49 seconds .wav)
19. Feels (length 3 min, 41 seconds .wav)
20. Cylon (length 2 min, 38 seconds .wav)
21. Mystery (length 0 min, 46 seconds .wav)
22. Mission In Space (length 1 min, 12 seconds, mp3)

How to access purchased soundtracs?

After purchasing this DLC, you can access these files directly from your files root (for example: C:\Program Files (x86)\Steam\steamapps\common\Voltage and seek Original Soundtracks -folder.

Please notice that this DLC does not contain every single music soundtracks which you might have heard in the game! This DLC contains tracks which we have licence to sell so that is why some tracks are missing.

https://store.steampowered.com/app/1105060/Voltage__Original_Soundtrack/
Other Voltage News
---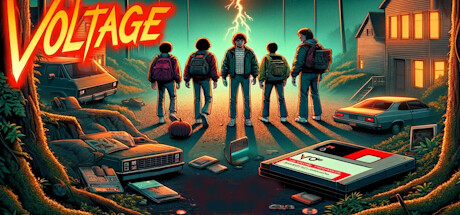 Voltage - January 19, 2020
This is the announcement from the game engine development company. (When update is complete, Voltage and DLC:s will get some new functions/performance updates!):
Further Back
Voltage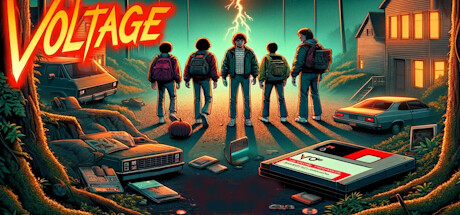 RETRO RAMPAGE FOR PC! Set in the town of Frontier, Missouri, in the 1980s, young man called Mark finds a prototype of VR-glasses. And to his surprise, the glasses are compatible with his Amiga 500. He launches a game and step in to an incredible adventure..
Developer: F-Games
Publisher: JTS Development