Major Update 6!
Posted by: LK|LordCommanderGuts on steam_community_announcements June 12, 2019
Greetings survivors! We're back again with update! At long last, we're ready to release mission 3 along with a number of other big updates, so let's dive right in and get to it!



First on deck is mission 3! Mission 3 once again changes things up a bit and introduces some new gameplay experiences. We don't want to spoil it for you so we hope you give it a try, and report back to us and let us know what you think! One fair bit of warning, you'll need to put on your thinking caps for this one, and if you find yourself in a pinch with nowhere to run, you can always try hiding! ;)



Next up, we've also completely reworked the tutorial. We were never really happy with the original tutorial, and considering changes to the core game and our need to reduce scope, we felt it best to start from scratch and rework it completely taking other platforms into consideration. We're extremely pleased with the result, and even if you are already familiar with the game, we hope you'll check it out and let us know what you think, as well as tell us if you feel we're missing anything!



We've also been hard at work reworking the shooting range. The original iteration was not quite in line with the vision we had it mind so we scrapped it and started over. There's currently only a few different challenges to play, but the framework is there for us to expand it in future content updates. We hope you give it a try and report back to us and let us know how we're doing!



Core mechanics are something we're constantly trying to improve on. This update is no different, as we've made a pretty significant change to the player inventory system. Previously players had a total of 9 attachment points on their body (not including the backpack). We've logged a number of users feedback around this, mainly with trying to grab something off your body but something else getting in the way. We've done a lot of tweaking and tuning, but nothing was solving the issue so we decided to simply reduce the number of attachment points down from 9 to 5, as well as change some of the rules for items and where they can be socketed. Melee and 2 handed weapons (shotguns and rifles) now both can use the chest socket. Naturally this does mean what you decide to carry will require a bit more thought, and utilizing the backpack more important as your total inventory space is more limited.

Some other better quality of life improvements we've made to firearms are that we've finally added some feedback when fire select is manipulated. Important objects in the game such as inventory quest items and ammo boxes also have a new shader effect applied to make them more noticeable in the world. It was also decided to enable ammo counters on the magazines while inside the guns by default, as you can now look at the gun while it's loaded and see how many rounds are left and decide if you wish to reload early or squeeze off that last round first. You can disable this by enabling immersive mode for those who find it distracting and wanting less visible information.

Mission 1 "Outbreak" we've never been completely satisfied with the ending. We had attempted to have multiple endings, but each of them left us feeling none of them really brought any sense of accomplishment or closure to that story as such we have implemented a new ending which also adds a new gameplay sequence. Finally we can look forward and start working on mission 4 now that Outbreak has that final sense of closure we were originally trying to achieve.

Finally we want to apologize for the long delay since the last update to this one. We've spent a lot of time getting ready for our release on Playstation 4, and as such it ended up slowing the progress of this update. The good news out of all of this is that the game is EXTREMELY well optimized at this point for PC as well as for Playstation. We hope this update is well received and all the improvements we've been making are noticed.

We're very grateful for the ongoing support as we get closer to moving out of early access, we would appreciate it very much if those who have been critical of the game in their reviews, revisit and update your review based on the current state of the game. We take reviews seriously, and refer to them often as a way to prioritize bugs and features, so we would greatly appreciate you helping us in that regard by updating your reviews. From all of us at Monochrome, we thank you for the continuous support, we'll see you next update!

https://discord.gg/monochrome

Update 6.0 Changelog

New Additions




New mission 3 "Charlie"

New mission ending system (story credits)

Ambient music system (all maps)

New tutorial

New shooting range with challenges

New usable turret gameplay (Outbreak)




General Updates




Player inventory socket improvements

Visible ammo counter on magazines in guns

Mission 1 ending reworked

Mission 1 balance pass

Mission 2 reworked dialogues

Mission 2 difficulty balance pass

Riot Boss rebalance, damage feedback (helmet)

GPU and CPU optimizations

GUI elements polish

Audio polish campaign (weapons and environmental)

Flashlight reworked (no longer uses batteries)

Player movement system recoded

New Vacancy clerk dialogue

New Vacancy player, clerk and Ken dialogues

Cleaned up Outbreak dialogue audio

Low health post process improved effect

Improved search icon




Bug Fixes




Survivors when grouped don't launch into space

Weapon ammo correctly spawns + despawns on belt

Soldiers when killed or culled no longer leave ammo floating

Gibs from broken doors despawn correctly

Jumpscare door no longer interactable during animation

Sky clouds correctly animate

Flashlight emissive correct value when on

Vacancy last survivor audio fixed

Firearms can no longer spawn from searchable in apartment

Vacancy clerk dialogue fixed



Known Critical Issues


Other Contagion VR: Outbreak News
---
Further Back
Contagion VR: Outbreak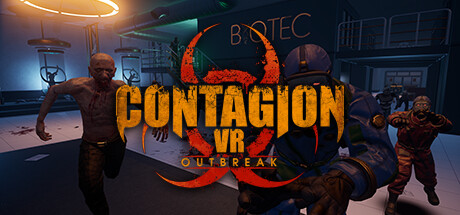 Contagion VR: Outbreak will immerse you in the middle of a zombie apocalypse. Relive stories of the survivors in the Single Player campaign, take your time in Free Roam, or check out the Firing Range!
Developer: Monochrome, Inc
Publisher: Monochrome, Inc