Just Here To Say 'Hi'!
Posted by: ElJorro on steam_community_announcements March 5, 2019


Well, not just for that, sorry for not being completely honest :)

Since you're already here, we've wanted to mention that our brilliant artist is working on something special: you friendly handy guide to machine learning from A to Z and beyond! Check out some teasers below:





Machine learning is not at all easy, it takes more than just one game to understand it (normally it takes a couple of years in college, but anyway). So we're making this piece of infographics to serve you as a map in this sometimes confusing and ever changing world that is data science.

We'll let you know when we're ready!

That's not the only thing we're working on, naturally! Let us remind you of our public Trello board, with a roadmap and whatnot: https://trello.com/b/MNIKsP2V/while-true-learn-roadmap

And in case you've missed the news but not going to miss GDC, we'll be there, feel free to come say hi (and get some cool stickers :)) - https://steamcommunity.com/games/619150/announcements/detail/1763626975579947060

Our friendly CEO Oleg is already on his way to the US, so it just got real! Yay to machine learning, all hail robots (and cats)!

Talk to you again very soon!






The latest blog post


Release or The Story About 1 Year of Weekly Updates, Machine Learning and Cats




Links for our best friends ❤️


Get to know how you can help us develop the game
blog.luden.io/our-plans-or-how-to-get-more-involved-561ebad5e376

We do not have any secrets from our players, here you can see our public roadmap (where you can vote and leave your comments)
trello.com/b/MNIKsP2V/while-true-learn-roadmap

Community localisation
crowdin.com/project/while-true-learn/invite?d=85n6j4453507d5b35353f3m4a3

Ask for help, help others and report bugs in Discord
Twitter
Facebook

All in-game machine learning materials, links and videos ONLINE



If you love the game spread the word


We will become full of joy if you ask your favorite YouTube / Twitch creators to play our game, just share these links with them:
www.keymailer.co/g/games/53096
woovit.info/while-true-learn

Other while True: learn() News
---
Further Back
while True: learn()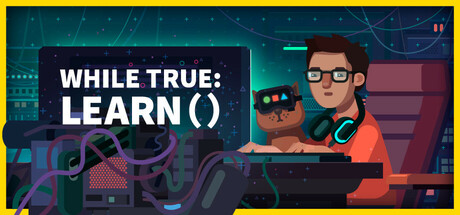 You're a machine learning specialist who makes neural networks but your cat seems to be better at it. Now you must solve puzzles to build a cat-to-human translation system (who knows what else this cat is capable of!). Earn a fortune, buy kickass cat outfits and learn how machine learning really works!
Developer: Luden.io
Publisher: Nival