Open Development Week #63: LOOT! (and new team members!)
Posted by: LucyG on steam_community_announcements February 7, 2019
Hey Hunters,

How's it going?

There are a lot of exciting things to talk about this week, so I'll get right to them!



Loot Drops!


Yes, it's finally time to farm for some rares!


That's a LOT of damage on a Medal! Guess it might need another balance pass...

If you have access to the Pre-Alpha, you've been able to see and interact with some items since the last Steam update. But so far it was meant just as a test for the Hunter screen (the inventory) and the item affixes / RPG stats.

Now we actually have a full-fledged drop system that will allow you to defeat enemies and get randomized loot from them!

Needless to say, this changes the entire game. Starting from the next Steam update, we are going to wipe your progress (again) and you will be able to experience a completely rebalanced (more like UNbalanced, amirite?) experience from level 1 to level 20!



How Do Loot Tables Work?


Uh, it's complicated. But long story short: we have a very scaleable and flexible system which will allow us to do all of the following very easily:





Add new items automatically to the drop tables of regular enemies;

Do special drops during Quests or Events;

Segment enemies from Faction (Ducan, Kami, Timekeeper);

Drop specific loot from specific enemies (yes, Bosses will have their own loot that you can focus-farm);

...and more!




If you want to get to the real nerd details of how loot works, you can check it out on our Dev Wiki.

But tl:dr for the normal human beings:





item quality is based on content level, NOT Hunter level;

regular enemies and containers will drop stuff at below their level;

elite enemies, champions, bosses and chests can drop stuff above their level;

this means that content that is of higher level and higher difficulty yields better loot;






How Many Items Are There?


Just a few, but considering how early we are in development, it's a TON!


Some new Rare Gear pieces that we worked on this week

This build will go live with 78 Gear Bases and 42 Weapon Bases. We call them "Bases" because when they drop they are randomized with different stats and affixes, and every affix has different rolls.

There are currently 30 Gear Affixes that can roll depending on the type of Gear. We are still working on Weapon affixes, so they will not be on this build.

All affixes are currently very simple and straightforward stat boosts, but we have a very powerful system that allows us to create more interesting and complex affixes - these will come as soon as we wrap up the basics of the RPG layer of the game!



Gear Score Might Surprise You


You will also notice that we have Gear Score on the Hunter Screen. You may have seen this in multiple other loot-based games in the past. But ours is a bit different. Here's why:

As you climb to higher Gear Score Ranks (you can check your progress by hovering your cursor on the Gear Score indicator), you actually unlock extremely important advantages for your Hunter.


Gear Score Rank borders: Crude, Common I, Common II, Uncommon I, Uncommon II, Uncommon III, Rare I, Rare II, Rare III, Rare VI

First of all, you get a massive bonus to all types of Attack and Defense;

Second of all, you get a character portrait border (pictured above) that indicates how much of a badass you really are;

Last but not least, you get a visual upgrade to your character to reflect that they are better equipped. Since we could not afford to make every single item change your visual appearance, we thought this would be a good way to still have your looks progressing as your gear gets more powerful! (Keep in mind that this feature is still not present on the current Steam build, ok?)



What's Next?


Exciting things, of course!

Our current focus in on making the game look prettier, because GDC is coming up and we need a new trailer. We love our Kickstarter trailer, but it's almost 18 months old now and the game is already looking much, much better!

But first, let's talk about something super, SUPER cool:



New Team Members!


The most attentive of you might have seen it announced on social networks last week, but our little family has grown! We have just hired five new team members and we are now 14!



But actually, this is the start of our vision for Live Ops in Relic Hunters Legend where we will have multiple different teams taking turns to deliver new content and features.

Rogue Snail is now actually TWO teams, a big one and a small one: Team Voyager (led by me) and Team Juno (led by Eli)!

Next year Team Juno will join us in Relic Hunters Legend, but in 2019 they are working a new, unannounced Relic Hunters project for mobile. We hope to talk about it (very) soon, but keep two things in mind: One, it's going to be awesome! And two, it is NOT taking any resources away from the Legend team - this is a government investment that we got to make a brand-new mobile game!



Livestream today!



Wanna talk about loot? Have burning doubts that need to be answered? Wanna know how deep the item system will go? Endgame? Come hang out with me on today's Special Livestream, starting today at 11 AM PST. Don't miss it!

Cheers,

~Mark
Other Relic Hunters Legend News
---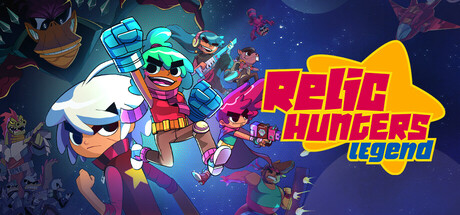 Relic Hunters Legend - November 22, 2019
We're starting a new event: EMOJI CONTEST. We have 54 slots free on our Discord Server and we want to have emojis from our community there!
Further Back
Relic Hunters Legend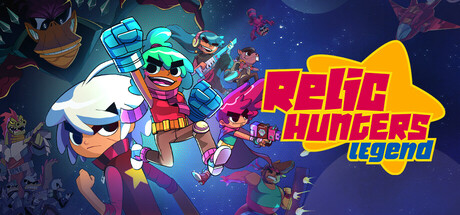 Fast. Fluid. Fun. Free. An online cooperative Shooter/Looter/RPG. Gather up to 4 friends, gear up, and save the Galaxy from a terrible villain who has stolen the past!
Developer: Rogue Snail
Publisher: Rogue Snail