*REMINDER* 2nd Leaderboard Ranking Contest Winners Claim Your Prize!!!
Posted by: degicagames on steam_community_announcements January 17, 2019
To all of our Groove Coaster fans who participated in the 2nd Leaderboard Ranking Contest, below is the list of Winners who have yet to claim their prize!

Take a minute to browse through the list and see if you won!



How to claim your prize


Winners to receive your DLC code prize, please send a friend request to our Steam account and we will send you a PM containing the DLC codes.



DISCLAIMER


Please be sure to contact us by January 24th (PDT) 2019 or your prize will be forfeit.

Small print:
In order to deliver prizes, we will need to contact winners via Steam. Our Privacy Policy, for reference.



First Place Winners






Random Selection Winners





FAKE (ALR REMIX)






[Tx-z3r0]

萌萌狸i

DresO

purinao001

neonend

EverydayGamer

Federico

Gunter

むいむい






G ZERO






Porisu

RisingMoist

E.M.T

0106sang

Jdogg

MrBigSweaty

woonigun






HG Makaizou Polyvinyl Shounen






Отсосу за колбасу

Okto

らぷたん

Trash Warlock

van darkhomle

OH OH 馬的法克

eey3

lim

新米剣士

Swiss Jeans






No more labor






四

tobi

Shadow

InariFox

まごころ

pepepepePekoe

LTurret

AgentTBone

一只大肥猫

Weary






orbital






RACHEL

jerrywang

parkseu11

SchrecklicherAufstand

あいし

Benson

XfirehuaX

jykim7289

NowThatsASandra.






Satisfiction






kuroneko

ゴリラ丸

JustJakka

grmanson14

Maiiko

逼神WenZF

champlew

|NK| Kain






TAKING OFF






PacificCookies

nicl-nicl

60Four

COB

クマ(・(ェ)・)

umasun(うまさん)

Mike Tyson Jr.




----



Initial Initial Echo Ego






Ashenan

Caym

Crushed Stars

o-kami

鬼何

RK/NZM

Hati

hitton2000

ReUKing






Konohazuku






eddy-326

moonraven

Henke37

Chocolate Giddy Up

Os-LuckyGirl

Zak! White [email protected]安斎ネキ

Elixme






Material of Puppets






Ha_ra-mi

Andrew115343

nature

tiaozi

Bastt

JiN_171

Ghost lead

洛伊德

brklalo

Emi.






White World feat. Yu Oda






プリエシアン

Princess Eru

Eighto

shumcyann

BOY

rizhi55

Stymie

iujiuj

QUNA

おいしいステーキ






Dream Coaster






jamira_kn

Mu_ Archangelo Satanas

悔いる

Senuga

KagaHK

Wisteria






Help me, ERINNNNNN!! -Cranky remix-






Os-LuckyGirl

Danjo1402

Meatman

PCHOK

Falbrav

Argon18th

franniedfish

No Waifu No Laifu

ray-cap

Sean Kingston






Kyouen






JojoCheung

HanDaang

十六夜天

FrogDaddy

Fda_DON

艾力克・J・奇拿

Angeleque






Special Smile






661TKS

LLENN

Maruneko

はちえ

立華奏

Dade [FIN]

Aim_E_Sparks




----



MEGALOVANIA






Practice

AlliumCepa

FoxTailTofu

amber.dream.710

Zenxi

Zero The Lazy

너구리같은너

kevinlee456471cytus

YoYoYoDude

LNT






Death by Glamour






soyatu

SuperBotch

龍 Chi Xu

Lucy

グレン

yuk1577

Muffin Time

meganezarujr





Other Groove Coaster News
---
Further Back
Groove Coaster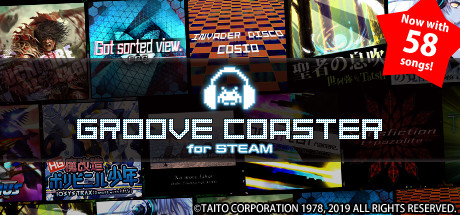 Riding the rhythmic rails of success from smart phone, into the arcades, now GROOVE COASTER arrives on Steam! Are you ready to ride a roller coaster of sound and light through a universe of music?
Developer: TAITO CORP.
Publisher: Degica,TAITO CORP.