THE AGE OF FEAR STRATEGY GUIDE!!
Posted by: Les on steam_community_announcements January 11, 2019


Hi all,

Early 2018 few players asked why Age of Fear had no guide or some wiki. I agreed with them - Age of Fear series has grown into a complex creation with multiple intertwined subsystems (that's why we are always careful with introducing new features).

However, thanks to Dark Schneider, we have put together the Age of Fear Strategy Guide!

You can download the Guide here:
http://age-of-fear.net/downloads/AOFStrategyGuide.pdf

It's only about half of the planned content - we have covered the three original factions, namely Human Kingdom, Greenskins Horde and Undead Legion. The guide also contains notes about mixing factions - this feature is often mentioned on forums, thus we decided to give it more attention.

The three other factions: Dwarves, Forest Folk and Chaos Demons are in progress and we will update the Guide once they are done.

We are releasing Age of Fear: The Free World (COMPLETELY FREE!!) on 18th January:

https://store.steampowered.com/app/882410


PLEASE REVIEW OUR GAMES!

Links
Twitter
Facebook
Website

Take care,
Les & AOF Team
Other Age of Fear: The Undead King News
---
Further Back
FOREST FOLK UPDATE!! June 21, 2019
THE MODDER CHALLENGE!! June 20, 2019
PIRATES!! June 16, 2019
UPDATE RELEASED!! (v5.9.7) June 14, 2019
AGE OF FEAR: THE UNDEAD KING GOLD RELEASED!! June 11, 2019
WORKSHOP MANAGER!! June 5, 2019
MEMORIES, MEMORIES... May 23, 2019
UPDATE RELEASED!! (v5.8.2) May 12, 2019
WORLD MAP EXPANSION (HELP NEEDED)!! May 6, 2019
DESERTS ARE COMING!! April 26, 2019
Age of Fear: The Undead King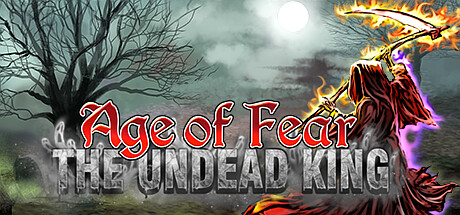 Play as either Sir Edward, a noble Knight defending the Human Kingdom, or Krill, a wicked Necromancer with an unearthly lust for power! The Age of Fear series is a deep and complex turn-based strategy (full of humour!) that fuses a tabletop wargame with RPG elements.
Developer: Leslaw Sliwko
Publisher: Age of Fear