Happy Holidays from EarthWork Games!
Posted by: [DEV] Blammo on steam_community_announcements December 23, 2018


G'day Forts Fans!

Well, it's been a long year, with a lot of bullets fired, and many a fort coming tumbling down. We hope you have enjoyed all the extra features and functionalty we have brought you, and all the great output from the modding community.

The EarthWork Games team will be taking a break for a couple of weeks to recharge. We have big plans for next year, but in the meantime we're bringing you the last fixes of the year, along with a sprinkle of festive spirit to the game...





Release 2018-12-23a


Add: button to download featured replays, instead of automatically at start
Add: video card model and driver version to log
Add: message box when uploads are still in progress on exit
Add: in-game message box to query player about desync report upload
Add: notification and progress bars when crash or desync uploads are in progress on exit

Optimise: don't calculate checksum twice when writing a replay keyframe

Fix: some players have a black screen on start
- Add a checkbox to enable refresh rate selection
- Add a message box the first time a display mode with frequency is set
Fix: crash in Node::AddToChecksum when team projectile types are not even
Fix: replay desync when placing ropes
Fix: BreakStructure can destroy nodes when close to the ground
Fix: translation not provided if mainmenu has no strings table for the current language
Fix: application VSync option is not used (was always on)
Fix: crash when pressing Edit with no map selected
Fix: disconnected close ranked matches are always given to Team1
Fix: fires not extinguished for victors in TDM
Fix: when all items in a HUD tab have been maxed out, an item in another tab can be selected
Fix: when a device is selected which can't be built, it's not possible to select structure
Fix: the lobby chat edit box can overflow
Fix: players can spam the chat, causing performance issues and disconnection for others
Fix: desync/crash when a player replaces a material adjacent to where another player is placing a device
Fix: weapons can fire after being disconnected due to latency
Fix: tick profiling is inaccurate
Fix: seams are visible in HUD background
Fix: desync files are not considered to be uploading during the 5s delay
Fix: hung workshop downloads cause a loop which spams log, network and CPU
Fix: chat history workshop download buttons sometimes reappear

Remove: obsolete colour depth display/selection from options screen

Happy Holidays!
EWG
Other Forts News
---
Further Back
Forts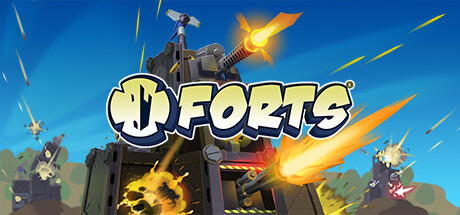 Forts is a physics-based RTS where foes design and build custom bases, arm them to the teeth and blast their opponent's creations to rubble.
Developer: EarthWork Games
Publisher: EarthWork Games