CRAZY PATCHING AND ... LOCALIZATIONS!!
Posted by: Les on steam_community_announcements December 8, 2018
Hello everyone

as some of you noticed we have been crazily (and annoyingly!) patching our games over the last few days. The reason is the new feature which can be seen in Options -> Screen -> Select Language. Options currently available are 'Auto' and 'English' (but more are being worked on!)

Committed fans have almost completely translated UI text and messages into French and are working on translating two of the original Age of Fear campaigns:
https://steamcommunity.com/app/351480/discussions/0/1743353164075383190/

The current French mod can be found here (work in progress):
https://steamcommunity.com/sharedfiles/filedetails/?id=1580639367

Links
Twitter
Facebook
Website

PLEASE REVIEW OUR GAMES!

Take care and have a nice weekend,
Les & AOF Team
Other Age of Fear: The Undead King News
---
Further Back
FOREST FOLK UPDATE!! June 21, 2019
THE MODDER CHALLENGE!! June 20, 2019
PIRATES!! June 16, 2019
UPDATE RELEASED!! (v5.9.7) June 14, 2019
AGE OF FEAR: THE UNDEAD KING GOLD RELEASED!! June 11, 2019
WORKSHOP MANAGER!! June 5, 2019
MEMORIES, MEMORIES... May 23, 2019
UPDATE RELEASED!! (v5.8.2) May 12, 2019
WORLD MAP EXPANSION (HELP NEEDED)!! May 6, 2019
DESERTS ARE COMING!! April 26, 2019
Age of Fear: The Undead King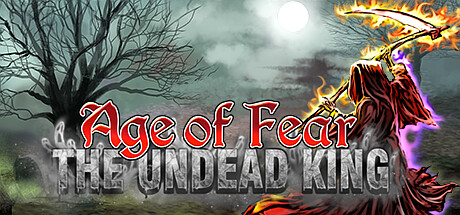 Play as either Sir Edward, a noble Knight defending the Human Kingdom, or Krill, a wicked Necromancer with an unearthly lust for power! The Age of Fear series is a deep and complex turn-based strategy (full of humour!) that fuses a tabletop wargame with RPG elements.
Developer: Leslaw Sliwko
Publisher: Age of Fear