Patch #6 with translations is now live!
Posted by: [NeatCorp] RomanLionz on steam_community_announcements December 6, 2018
Hello, Olá, 你好, こんにちは, und hallo!




We have now added translations of Budget Cuts for the following languages:





French

Italian

German

Spanish

Portuguese (Portugal)

Portuguese (Brazil)

Chinese (Simplified)

Chinese (Traditional)

Korean

Japanese

Russian




This update includes translated text for tutorial popups, menu options, magnifying glass texts and subtitles for Wintas mission dialogue.

The language settings are accessed by right-clicking the game in your steam library and choosing "Properties", then clicking the "Language" tab. The subtitles, which are also available in English, can be toggled on and off in the main menu.

Additional changelog:




Fixed a bug causing an earlier pager message to trigger after the last one, making the player unable to exit the level "Showroom".

Fixed a bug preventing the player from finishing the "Enigma" level if the player died after inserting the floppy disc.

Improvements to supervisor (enemy guard) behavior when searching for and attacking the player.

An exclamation mark (!) will now appear over supervisor's head when spotting you on Easy difficulty setting.

The translocator no longer blocks AI vision.

Supervisors no longer explode into ragdollyness when you grab their gun.

You can no longer teleport-stab NPC's.

Translocator pickup (in cubicle) now shows correct text.

Teleporting while holding guard works a lot better.






Please join us on our neat Discord server if you want to share your thoughts on Budget Cuts, discuss VR, or just hang out!
https://discord.gg/kQ7x9kC

Please let us know if you run into any issues!
Other Budget Cuts News
---
Further Back
Budget Cuts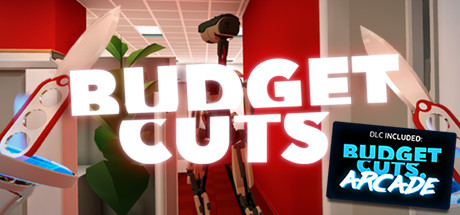 Budget Cuts is a VR stealth game where you dexterously zip, sneak or rambo your way forward through thrilling, oil-splatter filled combat!
Developer: Neat Corporation
Publisher: Neat Corporation