Open Development Week #51: Let's Talk About Items!
Posted by: Lucy on steam_community_announcements November 9, 2018
Hey hunters,

This is our first time using the steam announcements to upload our updates! We have a blog on our Kickstarter page where we post updates of Relic Hunters Legend, but we notice that probaly part of our audience here on Steam don't know about them. So we're about to start to publishing them here too!

If you want to know more about the previous updates that we make go to: Relic Hunters Legend Kickstarter Page



So, Let's talk about ITEMS!


Mark Venturelli, our Game Designer, has finally back to Brazil and is ready to help the team push our most anticipated feature so far: sweet, sweet loot.

There were many (so many!) boring things we had to take care of before we could finally tackle this, but boy is it on right now!

So for today's update we thought we would talk a bit about where we are, and how this whole Item thing is going to work out.

What is our current progress?

We are currently working on the structure of the Items. For the next couple of weeks we are working on the RPG Stats and how they scale, as well as how Items are structured in the code.

Our next Steam update should have some hand-made Items to test out the system, but the Drop System itself will take another 2 weeks.


Gimme LOOT!

Items in Relic Hunters Legend

There are 3 kinds of Items that you can equip in Relic Hunters Legend: Gear, Weapons and Relics.

Gear is stuff like boots, armor, shields, medals and whatnot. You equip them on 6 slots on the left side of your character's inventory, and they offer you protection in the form of Physical Defense Rate and Elemental Defense Rate.

Weapons are, uh, weapons. Both ranged and melee.

And Relics are... different. We will talk about those at a later date.

Every item in Legend will have an "Item Type" that gives it some basic characteristics. For example, a Weapon can be of the "Light Pistol" type, or the "Shotgun" type. Gear can also be from the "Heavy Shields" or "Light Armor" types, for example.

Item types define things such as which Affixes can be rolled into the item (see below), and also help group items together. You might have a "+10% Damage with Shotguns" bonus at some point, for example.

These types will help us define some basic "ground rules" for each item, but then we have the freedom to tweak and modify it for each basic item template (that we call "Item Base").

Finally, when the item drops, it will be its own beast - with its own randomized characteristics, generated from both the Item Base and its parent Item Type.

Gear and Slots

All Gear also have a special characteristic: which Slot they belong to. Like I said above, all Hunters have 6 Gear Slots that they can fill with their hard earned loot - but these Slots are not the same for all Hunters!

There are 12 different types of Slots in total, so each Hunter will have their own unique collection of 6 Slots. This means that some of the Gear pieces that you own can be equipped by some Hunters, but not others.

The goal is to create more build and playstyle variety, and overall more items to hunt and strive for!

Rarity and Affixes

And of course we will have different tiers of item Rarity!

There are 7 tiers of Rarity: Crude, Common, Uncommon, Rare, Epic, Legendary, and Ascendant.

There are also 3 tiers of Unique items. Unique T1, T2 and T3 are equivalent to Rare, Epic and Legendary respectively.

All of these items increase in Level and overall effectiveness as their Rarity goes up, but also the number and quality of affixes increase.

Affixes are special bonuses that an item can have, depending on their Item Type. For example, "+5% Movement Speed" is an affix. Or "+16% Attack Rate for 15 seconds after using a Mobility Skill".

Uncommon affixes are simpler, while Rare affixes tend to be more complicated/powerful. But Unique affixes live up to their name and are playstyle-defining.

They will also have "rolls", meaning that the intensity of their effects will vary. For example, you can drop a "+8% Movement Speed" boot instead of a "+5% Movement Speed" one.




Crudes and Commons have no Affixes


Uncommons have 1-2 Uncommon Affixes


Rares have 2-3 Uncommon Affixes


T1 Uniques have 1 Unique + 2-3 Uncommon Affixes


Epics have 3-4 Rare Affixes


T2 Uniques have 1 Unique + 3-4 Rare Affixes


Legendaries have 2-3 Rare + 2 Intrinsic Rare Affixes


T3 Uniques have 1 Unique + 2 Intrinsic Rare + 2-3 Rare Affixes


And Ascendants, who knows?




Enhancement and Gear Score

Apart from collecting Items of ever-increasing Rarity with tasty god-rolled Affixes, there is another very important part of the item game in Relic Hunters Legend: Enhancement.

Materials will drop when playing Legend's content, with the quality, quantity and type of materials depending on where you are in the game world, and how tough the content is - much like in Warframe.

You can use these Materials to increase the power of your Items through Enhancement, turning it into a +1 Item, then a +2 Item, and so on and so forth. The maximum Enhancement level is based on the Rarity tier, like so:




Crudes can't be Enhanced


Commons can go up to +5


Uncommons can go up to +10


Rares and T1 Uniques can go up to +15


Epics and T2 Uniques can go up to +20


Legendaries and T3 Uniques can go up to +25


And what about Ascendants? It is a secret to everyone




Don't worry, we will not punish you for dropping new and more interesting items after you've invested a lot of Materials into your current one: by Recycling an Item you can get 75% of your Materials back, and we'll also give you a special Material that can only be acquired by Recycling items that have reached their maximum potential!

And so much more!

We haven't scratched the surface of Items yet! Not only we have to talk about the Drop System itself, we still have to talk about Augmentations, Mods, Item World and Timelocked Affixes - and, of course, Relics! All in due time, Rebels, all in due time.

Community and Special Livestreams

We do Community Livestreams on Tuesdays at 11AM PT and Special Livestreams on Thursdays at the same time on our Official Twitch Channel! There we always talk about things related to our updates and stuff that we're developing for Relic Hunters Legend! Stay tuned on this channel so you don't miss anything about our game.

But should you miss any of our previous streams, don't worry! All of them are uploaded to our YouTube Channel

See you hunters in the next update!

Cheers,
Rogue Snail Team
Other Relic Hunters Legend News
---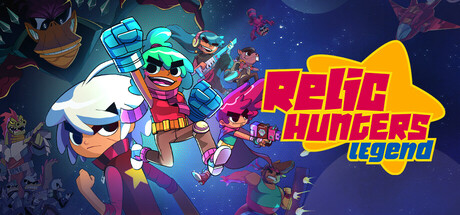 Further Back
Relic Hunters Legend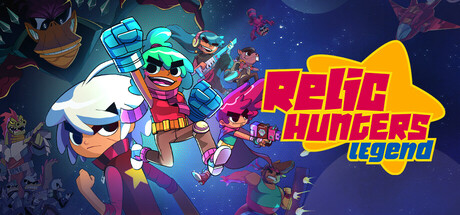 Fast. Fluid. Fun. Free. An online cooperative Shooter/Looter/RPG. Gather up to 4 friends, gear up, and save the Galaxy from a terrible villain who has stolen the past!
Developer: Rogue Snail
Publisher: Rogue Snail