Legendary DXP
Game created by SkyReacher Entertainment and released January 23, 2018 .
App changes last updated 1 week ago / News last updated 16 hours ago
Detailed Description
Update Notes
New!: 01/03/2019
- All new Menu UI
- Prestige levels and rewards
- Raids, work together to take down the Mastermind
- New Avatar Frames
- New Mastermind Zohar
- Chests and Scotty's Silver shop

-Various bug fixes
Update Notes
New Features: 10/30/18
-New Daily Challenges
-New Achievements
-New Vigilant Expansion
-Various Bug fixes
-Card Text updates
Update Notes
What's new: 9/13/18
Dimples has arrived to the Campaign!
New Campaign leaderboard Tiers and Rewards.
New Tutorial episodes
Campaign map UI
Bug Fixes:
Fixed Villain deck drawing
Various other game logic bugs
Update Notes
What's new: 7/30/18
-Game is now Free to play!
-Updated Tutorial for new players
-Stay updated! Added Push / Email Notifications.

Bug Fixes:
-Networking bug fixes
Update Notes
Announcement:
We have heard you! Starting next week Legendary DXP will go Free-To-Play on all platform. If you have already purchased the game, never fear! We have created a bonus bundle pack for you that includes a custom gameboard, avatars and more. Also, current game purchasers will now be able to play the first 24 levels of the campaign energy-free! That's right, no more spending gold or waiting for energy to refresh. Climb those campaign leaderboards with no restrictions. Thanks again for all your support as we aim to make Legendary DXP the best it can be!
Update Notes
New Features: 6/19/18
- All new Campaign mode! Complete 24 levels to save Alamyth.
- Campaign Leaderboard
- Energy system to allow for more Gauntlets per day
- Loot drops on Campaign map
- Newsfeed to stay up to date
- Items in collection
- Added item odds for packs
- Updated gameboard art
- Save game for Training and Campaign

Updated UI:
- Home Screen
- Menus
- Game end Screen
- New tip screen in game
- Tap on player avatars in game to view profiles

Various bug fixes
Update Notes
New Features:
- Added evil twin icon to cards that have escaped to warn the player
- Timer now pauses during prompts
- "Burn all" button in collections has been added
Bug Fixes:
- "Growing tide", "Cedric", "Strength in Numbers" now resolve when played, doesn't stack after
- "Indiscriminate Greed" bypasses fight restrictions
- Flying has a prompt asking to put on top of your deck
- "Of the Fallen" counts VP correctly now
- "Around every corner" No longer gives VP when it goes back to Alamyth
- Prompt to reveal a card to avoid a wound for the following:
- Gator Bait
- Smell of Ozone
- Winged Death
- Irresistible Darkness
- Terriski Mastermind strike
- Nax Mastermind Strike
- Overpowering Stench
- Durissa Mastermind strike
- Bleed em white scheme twist
- Dark Pact should ask you if you want to return it to your hand after selecting it
- Blade of the Fallen
- Ambush trigger for "Death has Wings", "Focused Fighter", and "Growing Dread"
- "To the Death" typo fixed.
- Master Shapeshifter should be played first before the discarded cards now
- Mayor should go to the top of the deck "Fly to Arms"
- Mayor now has a green outline when recruiting
- Rescue Mission and Mental Misstep works with "Fly to Arms"
- "Safety in the trees" will be noticed as an intelligence type now
- Gauntlet all schemes and masterminds should not show a white card
- Attack button should no longer not respond
- Issue where players who previously owned a mobile version and bought steam the game would be locked
- Villagers should not disappear under the mastermind now
- Android/Steam card stats effected now show updated stats
- Waiting for other players in solo should no longer happen
- Match making issue when you would search Skycrest but get core
About the Game
Welcome to the fantastical world of Alamyth where you can recruit all new legendary heroes and fight the terrifying forces of evil. Visit all new landscapes of Alamyth such as the Firelands and fight the likes of The Leprechaun Henchmen and the evil villain, Ernak The Lethal. Just beware, if the Mastermind, Terriskai: Terror Of The Skies completes his evil scheme, everyone loses.
The bestselling Legendary® Deck Building Game is here. Experience Legendary with your friends like never before; same great game, a brand new fantasy. Over the course of the game, players will recruit powerful hero cards to add to their deck in order to build a stronger and more resourceful deck. Players need to build both their recruitment powers (to enlist more heroes) and their fighting ability (to combat the villains who keep popping up to cause trouble). Players recruit heroes from an array of six cards, with empty slots refilled as needed. At the start of a player's turn a villain card is revealed and added to the row of villains. This row has a limited number of spaces, and if it fills up, villains start to escape. The villain deck also contains "master strike" cards, and whenever one of these shows up, the mastermind villain (controlled by the game) takes a bonus action. As players fight and defeat villains, they collect those cards, which will be worth points at game's end. Players can also fight the mastermind; if a player has enough fighting power, he claims one of the attack cards beneath the mastermind, which has a particular effect on the game. If all of these cards are claimed, the game ends and players tally their victory points to see who wins. If the mastermind completes his scheme, however – having a certain number of villains escape, for example, or imposing a certain number of wounds on the heroes – then the players all lose.You will never play the same game twice as the game changes each time you play. Team up with other players and fight to the end but make sure you have collected enough victory points along the way to be victorious.
Features:
Multiple Game Modes - Solo, Quick Match, VS Friends, Gauntlet, Raids

Collections - Rare Cards, Gameplay Mats, Avatars and Emotes (Collect them all!)

Gauntlet - Tournament style competitive play

Cross-Platform Play
Legendary DXP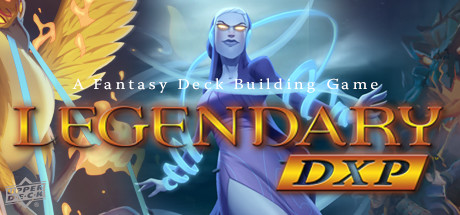 Welcome to the fantastical world of Alamyth where you can recruit all new legendary heroes and fight the terrifying forces of evil. Visit all new landscapes of Alamyth such as the Firelands and fight the likes of The Leprechaun Henchmen and the evil villain, Ernak The Lethal.
Info
Developer: SkyReacher Entertainment
Publisher: The Upper Deck Company
Type: game
Released: January 23, 2018
Genres:
Score: 0
Recommendations: 0
Steam Kiwi is a Steam news aggregator.
We capture all game news on Steam, sort by date and present a list of news you are interested in based on games you own.
Basic Features ?
Advanced Features ?