Forts
Game created by EarthWork Games and released April 19, 2017 . 2 DLCs have been released, the last on June 18, 2019.
App changes last updated 1 week ago / News last updated 10 hours ago
Detailed Description
Tons of Guns - Free Multiplayer Update
The arms race intensifies with this new update that adds two new tech buildings which allow commanders access to six formidable new weapons, and a host of new and varied strategies. The Armoury unlocks Flak guns to clear the skies of enemy projectiles, and EMP rockets to power down enemy tech, both of which can be upgraded to the Shotgun and twin Rocket launcher, respectively. The classic Cannon is now found in the new Munitions Plant, where it is joined by it's little brother, the burst-firing 20mm Cannon. The Factory now produces two beam weapons, the classic Plasma Laser and the new Firebeam, great for penetrating fortifications to ignite them from within.
Tons of Guns comes complete with new AI forts bristling with new weapons for players to take on in Skirmish or Multiplayer, and a new Mod Selection feature, which allows several new game types, such as Fast Build, Rapid Fire and Zero Gravity. Also included are Truce mods, which provide a period of varying lengths in which players can build up their forts in peace, before they start blasting each other into oblivion. All this, and the previously released Steam Workshop integration, comes free to Forts owners and increases the fort building possibilities of the game. Enjoy!
_______________________________
Forts is a physics-based RTS where foes design and build custom bases, arm them to the teeth and blast their opponent's creations to rubble.
Build an armoured fort in real-time and arm it to the teeth. Collect resources, develop your tech-tree, unlock advanced weapons to target your opponent's weak points, and feel the satisfaction as their fort comes crashing down.
Features
Build forts of any size and shape, as you fight

Up to 8 players in online multiplayer with co-op and team death match

Ranked multiplayer matchmaking and leaderboards

28 mission single-player campaign

Challenging skirmish mode

Unlockable tech-tree

Various materials and hidden rooms

16 unique weapons

4 factions

12 commander characters with unique game-changing abilities

Powerful replay system

Built-in level editor

Steam Workshop Support

Designed from the ground up to support mods
Commanders
Commander characters are available in multiplayer and skirmish modes, providing different advantages. Each commander has passive abilities, active throughout the battle, and a powerful dynamic ability which, once charged by damage, can change the tide of battle. Choose the commander to compliment your strategy.
Eagle Eye - Eagle Empire
Passive Abilities
Laser sights - Snipers are fitted with adjustable laser sights.

Increased accuracy - Machine Gun and Minigun spread is reduced.

Bigger magazines - Machine Gun and Miniguns magazines capacity increased
Dynamic Ability
Explosive bullets - Snipers and Miniguns fire devastating bursts of explosive shells.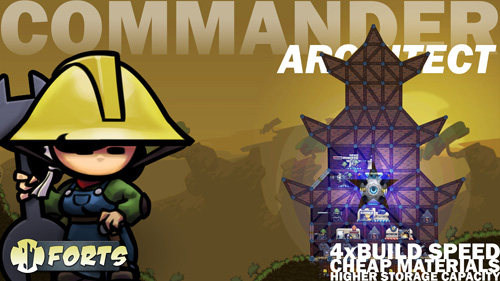 Architect - Dragon Army
Passive Abilities
Cheap materials - Fort building materials have a reduced cost.

Higher storage capacity - Batteries and Metal Stores enjoy increased capacity.
Dynamic Ability
4x build speed - Weapons, devices and structures build at 400% normal rate.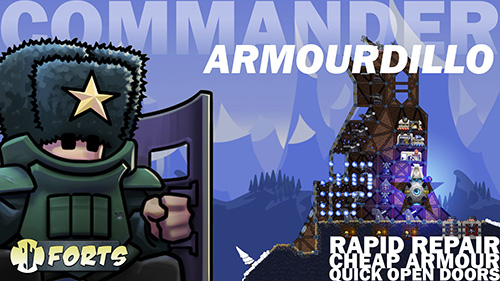 Armourdillo - Iron Bear Alliance
Passive Abilities
Cheap Armour - Armour and Doors are less expensive to build.

Quick open Doors - Doors open and shut at twice normal rate.
Dynamic Ability
Rapid Repair - Weapons, devices and structures are repaired at an increased rate, and for half normal cost.
About EarthWork Games
EarthWork Games is an independent game developer based in Brisbane, Australia. With over fifty five years of game development experience between us, we are eager to create games that we enjoy playing, and enjoy making.
Reviews
"Brisbane-based Earthwork Games has brought out a fort building - and fort destroying - simulator that combines strategy, engineering, aiming, and micromanagement. It's a fun cocktail that puts me in mind of Scorched Earth, or maybe a Scorched Earth that let me build a bunker around my tank. And then three more tanks on my bunker."
Kotaku
"Forts is an exceptional example of how a release can properly integrate many mechanics, from multiple genres, and get it right. The fast-paced challenge of managing multiple tasks before you're obliterated creates a sense of urgency and an increased heart rate that you wouldn't normally find from a title that simply leverages one of these mechanics. Buy Forts, and make a solid investment in your game library."
The Overpowered Noobs
"Forts is a simple, fun game, has a nice sense of humour and is guaranteed to get your brain whirling as you figure out the best way to build your base, defend your weapons while also pelting the enemy with bullets and bombs."
GameGrin
Forts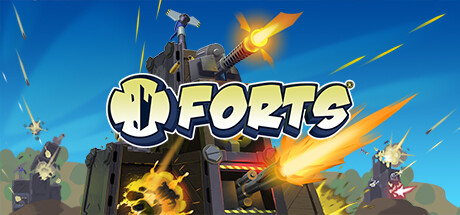 Forts is a physics-based RTS where foes design and build custom bases, arm them to the teeth and blast their opponent's creations to rubble.
Info
Developer: EarthWork Games
Publisher: EarthWork Games
Type: game
Released: April 19, 2017
Genres:
Score: 0
Recommendations: 2354
Steam Kiwi is a Steam news aggregator.
We capture all game news on Steam, sort by date and present a list of news you are interested in based on games you own.
Basic Features ?
Advanced Features ?