#SelfieTennis
Game created by VRUnicorns and released April 1, 2016 .
App changes last updated 1 week ago / News last updated 18 hours ago
Detailed Description
#SelfieTennis is much more than a tennis game with a really nice physics simulation and great AI, accessible to players of ALL ages and with ZERO motion sickness.

You play against yourself on a tennis court in the clouds, with Ball People surrounding you and messing around together with you. Their AI can be described as highly sophisticated, funny, stupid, and other things.

For hardcore tennis fans, we made the best physics system that we could, and tennis pros have confirmed that it is indeed a pretty good simulation, but without all the hassles of real life, such as running after the balls or not shooting at other people.

For people who enjoy playing in their own rhythm and not following rules, the game has a perfect mix of funky sandboxy upgrades such as: #lightsaber, #violins, #selfies, #bow and #arrows for that #archery mood, #ponycorn to let you move around on horseback (stick), and #hearts to break (to get more upgrades).

We now support the HTC Racket tracker peripheral! Start the game with it activated and you can play two-handed (or dual-wield rackets) for an intense workout - the Ball People will take care of your balls, you just have to spank them!

Instructions
You use the triggers to spawn the ball(s) and racket. Double-click on racket trigger to lock it. You can change controller hands on the small button above the touchpad. Knock #BallPeople off the court and take their hearts to enter #HeartAttack mode (time-limited upgrades).

#SelfieStick is on ball controller's grips and you can record a GIF and tweet it out via the touchpad - log on to your Twitter profile via the computer screen when you start the game. Double-click grips to lock it in your hand. SAFETY IS KING: Controllers can fly, SO WEAR WRIST STRAPS!

For cheats, use google! We <3 cheats ;)

A few cheats on the house (on keyboard):
- B: for High Balls serve mode
- E: for Enio ball (experimental - for higher visibility)
- K: for Kids mode (don't cheat, if you're an adult...by age)
- S: deactivate the #SelfieStick
- M: turn off Music
- Arrow keys: rotate play space
- HAHAHA: Laugh at your friends for extra hearts!

Us VRUnicorns are hardcore jammers and we're constantly jamming on new and fun features for #SelfieTennis. Let us know of any crazy ideas, wacky features and tricks/cheats you would like us to add. We're a tiny team game jamming our way through life, so we can't promise that all features will make it in, but cool ideas should be tried. Check out this #SelfieTennis discussion thread and post your wishes: https://www.reddit.com/r/Vive/comments/4lk1ab/tell_us_your_wishes_selfietennis/

@VRUnicorns
#EverydayIsJammingDay #MadeWithUnity #MadeWithUnicorns
Reviews
"I still play it daily. I still show it to people and, after warnings, many of them still hurt themselves. What the hell is going on?"
Polygon
"#SelfieTennis takes the three basic elements of tennis—the ball, the racket, the people—and invites you to do whatever the heck you want with them. Without the rules of the physical court, that club in your hand becomes a far more versatile and potentially violent device."
Killscreen
"You can try to play a proper match, get a nice volley going with yourself, or just smash the ball into the strange spectators with tennis ball heads and watch them flop lifelessly to the ground."
Gamasutra
#SelfieTennis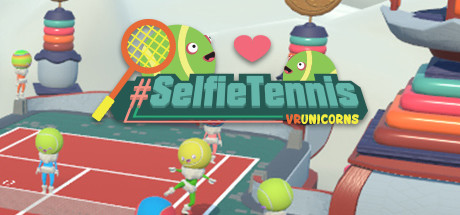 #SelfieTennis is a sandbox game where you play tennis with yourself. When you hit the ball over the net, you teleport to the other side and hit it back to get points. But once you start spanking the wonky ball people around the court, things start to get really weird!
Info
Developer: VRUnicorns
Publisher: Bandello
Type: game
Released: April 1, 2016
Genres:
Score: 0
Recommendations: 0
Steam Kiwi is a Steam news aggregator.
We capture all game news on Steam, sort by date and present a list of news you are interested in based on games you own.
Basic Features ?
Advanced Features ?