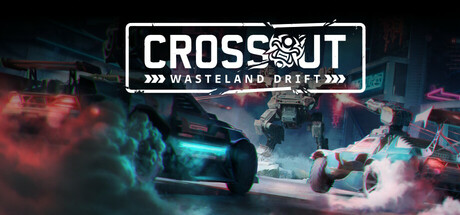 Score: 0
Recommendations: 10635 / Metacritic: 0
Crossout game
Released: July 26, 2017
Publisher: Gaijin Entertainment
Store Hub Workshop SteamDB Steam Charts Homepage
Join the Open Beta of Crossout, the post-apocalyptic MMO Action game! Craft your unique battle machines from dozens of interchangeable parts and destroy your enemies in explosive PvP online battles!
Detailed Description
Just Updated


Targem Games and Gaijin Entertainment released Update 0.9.0. It adds, among new features and other improvements, the seventh faction to the game - the Firestarters. Players allying with this group of fire-worshipping madmen are rewarded with new vehicle parts that can turn any battlefield into a scorched wasteland:
The 'Incinerator' is a crude catapult launching gasoline-filled projectiles that set entire areas ablaze. Thus, if you see a neatly stacked pack of Jerrycans flying your way, make sure you hit the gas before it hits you.

Also new is the 'Fortune' launcher, firing burning wheels in bursts of three that roll towards unfortunate enemies detonating on contact.

The new 'Draco' flamethrower deals direct damage, leaving enemy vehicles red hot and causing them to take double damage from any kind of weaponry.

The giant pair of blades called the 'Meat Grinder', that deals damage on contact and allows Firestarters to move at equal speed in any direction - and even strafe sideways!

The new Firestarter cabin, 'Werewolf', allows players to claw victory from defeat, as it houses a small, wheeled drone strapped full of explosives. Launched upon destruction of the own vehicle, it gives the player 10 seconds to seek revenge by detonating it against an enemy in a daring kamikaze attack.
Further information about Update 0.9.0 and the new Firestarter faction is available on the official Crossout website!
Update Notes
How to link your Steam and Gaijin.net accounts
If you previously played Crossout or have a
Gaijin.net
account, we recommend that you link your Steam and
Gaijin.net
accounts when you first start the game through Steam.If this is not done when you first start the game from Steam, then in the future you will not be able to link your accounts.
We encourage you to sign up for a
Gaijin.net
account if you don't have one. This will allow you to continue to use all the additional features of the game.
Here is a brief guide on how to link your Steam and Gaijin.net accounts
Two windows for linking accounts will appear on your screen.
To link the accounts, enter your
Gaijin.net
account data in the left window and confirm that you want to link your accounts.
If you haven't got a
Gaijin.net
account or if you choose not to link accounts, you can log into the game through the right window. But you will no longer be able to link your accounts in the future.
Attention! If you failed to link accounts by mistake and entered the game only through Steam, but still want your accounts to be linked, we recommend that you do not make any in-game actions, especially in the market, and contact support. We will try to help you.
If you previously played 'War Thunder', then most likely your accounts are already linked.
You can learn more about linking accounts at the Technical Support website:
How to link your Steam account to your email address
How to link your Steam CrossOut account to your Gaijin account
About the Game
Join the Open Beta of Crossout, the post-apocalyptic MMO Action game! Craft your unique battle machines from dozens of interchangeable parts and destroy your enemies in explosive PvP online battles!
Key Features:
Unique vehicles, crafted by the players using a wide range of available parts: From nimble buggies to heavily tracked off-road vehicles or combat platforms on antigrav fields.

Complete freedom of creativity and thousands of possible combinations: Create vehicles of any shape using dozens of parts, wide variety of armour and weapons as well as support systems.

Advanced damage model: Destroy any part of an enemy machine and it will affect the vehicle's performance immediately.

Huge arsenal of weapons: From chain saws, power-drills over machine guns to rocket launchers, flying drones and stealth generators.

Your own workshop: Create new, advanced parts and auction them at the in-game marketplace.

Trading options between players: Every piece that you have gathered in the battle can be sold to other players.

Choose your own battle strategy: The only thing that matters is the Survival and Victory!
CROSSOUT - The Road to Apocalypse
In 2021 a mysterious viral epidemic known as the 'Crossout' swept the planet, countries and populations simultaneously began to fall at an alarming rate all over the Earth. Those who did not die in the first few days, were plagued by hallucinations and headaches, many people went mad, others and committed suicide. The source of the disease could not be detected but the cities that were once the vibrant social and economic beacons of humanity were left ravaged and deserted.
Survivors gradually began to change — after fifteen years of transformation, the changes became visible. The most noticeable metamorphosis occurred in the eyes of the affected — some began to glow, while others resembled black holes. To hide their unnatural looks and conceal the mutation, people started wearing padded clothing and sunglasses.
Twenty years have passed after 'Crossout'. Humans still remember their life before the disaster. As always, there are groups trying to recover the old world, while others enjoy the chaos and destruction. But there are those who are not human any more. They hide their faces behind masks, and their motives are unknown.
Reviews
"Like if Mad Max and Twisted Metal had a baby in a sandbox"
ShackNews
"The idea of combining the building controls of Minecraft with destructive vehicular combat can lead to some very interesting battlefields and the sheer creativity shown so far has been amazing."
Mmogames
"Сreativity is pushing the game in directions the developers never imagined"
Hardcore Gamer
Steam Kiwi is a Steam news aggregator.
We capture all game news on Steam, sort by date and present a list of news you are interested in based on games you own.
Basic Features
Advanced Features