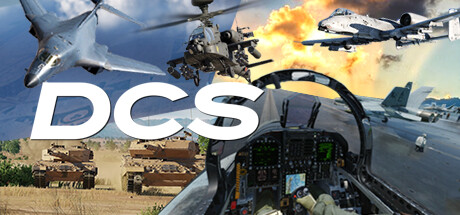 Score: 333,684
Genres: Free to Play, Simulation
Recommendations: 5060 / Metacritic: 0
DCS World game
Released: August 2, 2013
Publisher: The Fighter Collection
Store Hub Workshop SteamDB Steam Charts Homepage
Feel the excitement of flying the Su-25T "Frogfoot" attack jet and the TF-51D "Mustang" in the free-to-play Digital Combat Simulator World!

DCS World is a vehicle combat simulation game created by an inspired development team. DCS World uses a powerful engine that delivers realistic gameplay. The battlefield includes a spectacular mission area - the location of the Georgian conflict in 2008. Fly the Su-25T in a massive, semi-dynamic campaign to achieve dominance in the skies over Georgia! Experience the amazing flight dynamics and interactive cockpit of the TF-51D and understand why the Mustang is often regarded as the greatest fighter of the Second World War.

The huge variety of aircraft, land units and warships are included from countries such as the United States, Russia, the United Kingdom, France, German Spain and others. Units are controlled by sophisticated Artificial Intelligence (AI) and they have an amazing levels of detail. This all allows for the creation of engaging, real-world combat missions in this flashpoint region. DCS is a true "sandbox" simulation that can and will cover multiple time periods covering many types of combat and civilian units.

Your exhilarating experience will be extended through additional DCS modules available through Steam. Such modules include the A-10C and A-10A Warthog, F-15C Eagle, L-39 Albatros, Hawk, MiG-21bis, MiG-15bis, F-86F Sabre, Ka-50 Black Shark, P-51D Mustang, Fw 190 D-9 Dora, Bf 109 K-4 Kurfurst, UH-1H Huey, Mi-8MTV2, SA342 Gazelle, AJS-37 Viggen, M-2000C, and ground combat control with Combined Arms. More new vehicles are being added all the time. Also available are many hand-crafft campaigns for many of the aircraft.

DCS World comes with a free map of the Caucasus region, but other maps are or will be available like the Nevada Test and Training Range, Normandy 1944, and the Strait of Hormuz.


Additionally, DCS World includes:
Powerful mission and campaign editors

Multiplayer

Massive inventory of air, land and sea combat units and weapons

Advanced AI

Fast mission generator

Dynamic weather and seasons

Training missions

Mission replay system

Pilot log book
App changes last updated 5 days ago / News last updated 9 minutes ago
Detailed Description
Feel the excitement of flying the Su-25T "Frogfoot" attack jet and the TF-51D "Mustang" in the free-to-play Digital Combat Simulator World!
The Open Beta version of Digital Combat Simulator World (DCS World) 2.5 is a free-to-play digital battlefield game and simulation environment. The "release" version will be available shortly after Open Beta testing is complete. The Open Beta is an optional version of DCS World that we use to first test new content and technologies before moving them to our release version.
Our dream is to offer the most authentic and realistic simulation of military aircraft, tanks, ground vehicles and ships possible. This free download includes a vast mission area of the Caucasus region and Black Sea that encompasses much of Georgia. It also includes a flyable Russian Sukhoi Su-25T ground attack aircraft and the famous WWII North American TF-51D fighter. An additional 25 aircraft are available for purchase.
The download comes with one of the most powerful mission editor ever designed, full network play and more than 156 AI weapons systems, 105 ground vehicles and trains, 50 air defense systems, 19 ships and 84 AI aircraft permitting you to plan and play highly sophisticated missions. DCS World is massively extensible through additional DCS modules as well as user-made add-ons and mods which you can purchase and download from our site.
DCS is a true "sandbox" simulation that is also designed to cover multiple time periods of interest such as WWII, Korean War, Vietnam, Gulf War and others. Current regions to battle include the Caucasus, Nevada Test and Training Range, and Normandy 1944. New maps in development include the Persian, Syria, Afghanistan, and others.
DCS World is fundamentally a deep, authentic and realistic simulation designed also to offer a more relaxed gameplay to suit the user and his particular level of experience and training. The ambition is to hand hold users from novice pilot all the way to the most advanced and sophisticated operator of such complex weapons systems as the A-10C Warthog or the F/A-18C Hornet. The only next step is the real thing!
Key features of DCS World 2.5:
The most realistic Free-to-Play digital battlefield ever.

One-of-a-kind, internally developed graphics engine that looks amazing from 0 to 80,000 feet.

Includes a beautiful, free, and highly detailed map of the Caucasus region that includes south western Russia and Georgia.

Includes millions of buildings, millions of km of usable roads and railways, more than 50 million trees, and 20 fully-equipped operational airbases.

Includes 156 free and fully operational weapons systems, 105 ground vehicles, 19 ships and 84 AI-controlled aircraft.

Fly the TF-51 Mustang and Su-25T attack jet for free!

Play all DCS World modules from one DCS World version.

State-of-the-art graphics with amazing lighting, shadows, and performance.

New breathtaking effects for explosions, clouds, fog, fire, and smoke.

Hundreds of land, air and seaborne AI vehicles. The world is your sandbox.

Create your own missions and campaigns for unlimited gameplay!

Mission generator included allowing rapid mission creation.

Enjoy multiplayer with friends, and even fly together in the same aircraft for multi-crew missions!

Purchase and fly the most iconic airplanes and helicopters from WWII up to the modern day.

Mouse interactive 6 degrees of freedom cockpits for most aircraft and the most accurate flight models, cockpit systems, sensors, targeting systems and sounds available.

Purchase and fly the most authentic simulations of the A-10C Warthog, UH-1H Huey, F-86F Sabre, Spitfire, and many others now.

Exciting new aircraft coming to DCS World like the F-14 Tomcat, F/A-18C Hornet, F-4E Phantom II, Mi-24P Hind, P-47D Thunderbolt, and many more!

Purchase additional high-quality maps such as Normandy 1944, the Nevada Test and Training Range, and the Persian Gulf.

Play hundreds of missions and campaigns with new campaigns continually created.

Both hardcore realistic and casual gameplay modes and options available.
Steam Kiwi is a Steam news aggregator.
We capture all game news on Steam, sort by date and present a list of news you are interested in based on games you own.
Basic Features
Advanced Features
Discord News