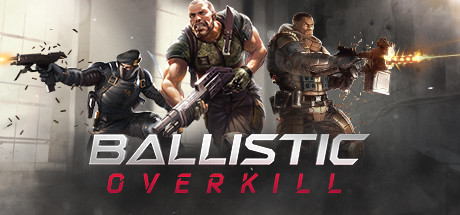 Score: 0
Recommendations: 5019 / Metacritic: 0
Ballistic Overkill game
Released: March 28, 2017
Publisher: Green Man Gaming Publishing
Store Hub Workshop SteamDB Steam Charts
Ballistic Overkill is a fast paced PvP shooter. Select one of 7 classes, each with their own skills and weapons. Make multiple loadouts with each, creating different builds within the same character. No wimpy support classes, in Ballistic everyone is a killer!
Daily Deal - Ballistic Overkill, 50% Off
Posted by: Valve on steam_announce August 12, 2017
Today's Deal: Save 50% on Ballistic Overkill!*

Look for the deals each day on the front page of Steam. Or follow us on twitter or Facebook for instant notifications wherever you are!

*Offer ends Monday at 10AM Pacific Time

Other Ballistic Overkill News
---
This patch is about some relevant balance changes and bug fixes for recent issues. We'd just like to thank you all for your support during 2017, the year Ballistic Overkill was officially launched on Steam! It was a great year for the game. However a lot still awaits us on 2018! We're still working on the female variant of all classes, working on the Workshop so you guys can start creating your own maps, on the fourth season and a lot more. Hope you stick with us. We wish you happy holidays!
Ballistic Overkill - December 13, 2017
---