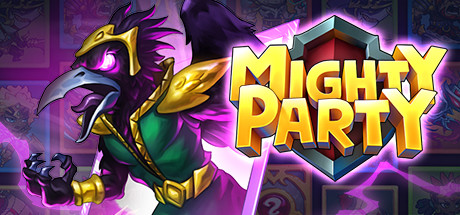 Score: 0
Recommendations: 381 / Metacritic: 0
Mighty Party game
Released: March 30, 2017
Store Hub Workshop SteamDB Steam Charts Homepage
Lead your MIGHTY PARTY to victory! Fast 3-MINUTE BATTLES will not let you get bored! Dozens of heroes reveal THOUSANDS of unique tactics to defeat all the opponents! Play Imperial Archer, protect him with Wind Ninja, strengthen them with Magic of Divinity and destroy opponent's forces!
Posted by:
Panoramik
Date:
May 19, 2017
Feed:
steam_community_announcements
✔ PVP Defeats subtract the same amount of Fame points as PVP wins add. Streak-Wins give Gold now;

✔ All battlefields were completely rebalanced;

✔ "Might" of the Legendary Cards were increased;

✔ "Soulbind" and "Reborn" add correct amount of "Might" now;
Dev's Note: All these changes should significantly affect matchmaking balance and upward move in League ladder.
✔ "Divine Arena" changes:
Players can choose now what Warlord they want to fight for. Win for each side will give a Rare Chest;
✔ Added Gold Dust as a new lot in "Surival" and "Journey" shops;

✔ Boosts' duration time was increased to 1 hour;

✔ The starting levels of Journey are easier now;

✔ Added a little chance to get Epic Cards from a Common chest and Legendary Cards from a Mega-Rare chest;

✔ The amount of gold extracted from the Gold Mine was increased;

✔ The cost of high level promotes of Rare and Common cards was significantly decreased;

✔ Added "Defeat" type quests for bosses in Journey that were added with the last update;

✔ The amount of dropped gold was increased;

✔ Added Info Window for each boss in "Journey";

✔ Legendary League season rewards were recalculated;

Warlords:
✔ Son of Woods
"Silence all enemies" is the second skill now:;
"+5 ATK to all Nature allies" is the third skill now;
✔ Trixy
Fixed an issue where Trixy's second skill doesn't trigger death animation;
Cards:
Dev's Note: Be aware that all numbers are shown for the unpromoted versions of cards.
Legendary:
✔ Athena
This card is locked on League 1 now. Nothing changes for players who already has it;
✔ Sir Lancelot
Fixed an issue where he gets Block from "Give Block 2 to Melee allies" ability, that was not initially planned;
Epic:
✔ Soul Hunter
Fixed an issue where Level-up from 5 to 6 doesn't give anything;
Added three new Legendary cards:
"Regardus Diplius" - 12/8, Range
✔ Attack: Silence enemy;
✔ Start Turn: Give Vampiric +2 HP to a random ally;
✔ Ally Death: Heal to Full HP himself;
"Marquis de Sat" - 4/35, Melee
✔ Start Turn: +3 ATK himself;
✔ Start Turn: 2 DMG himself;
✔ Death: Heal +20 HP to your warlord;
"Maeve" - 12/11, Range
✔ Give Regen +6 HP to melee allies;
✔ Start Turn: +2 ATK allies around;
✔ Kill: Heal ally Warlord +13 HP;
---
Other Mighty Party News
Mighty Party:
Panoramik - May 19, 2017
Mighty Party Update
✔ All battlefields were completely rebalanced;
---
List of incredibly powerful creatures you will get:
---
✔ Added 10 new levels in "Journey";
---