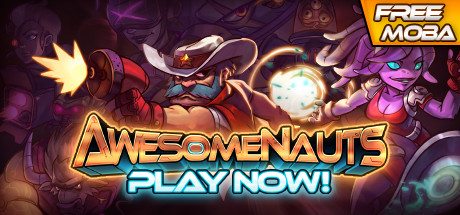 Score: 1,030,480
Recommendations: 18620 / Metacritic: 78
Awesomenauts game
Released: August 1, 2012
Store Hub Workshop SteamDB Steam Charts Homepage
Conflict spans the stars as huge robot armies are locked in an enduring battle. Head out to the battlefields with your friends in this 3-on-3 action platformer.
Posted by:
Mitaki
Date:
January 11, 2017
Feed:
steam_community_announcements
Who's that? Who could it be? Awesomenauts Update 3.5 is in the works, and it'll include lots of great content like the Level Editor and much more!
---
Other Awesomenauts News
The Beta for Awesomenauts 3.5: Unleash your Power has been live for two weeks now and we've seen lots of great maps and other creations uploaded to the Workshop already! Take the Flying Seas of Okeanos by Nikey9, a cool Awesomenauts map with an underwater segment, or The Breach of Omicron by Blatoy, which is a single-player map that really blows your mind, for instance! http://steamcommunity.com/sharedfiles/filedetails/?id=864175963
---
The new 'Naut, Samuel 'Deadlift' Gains has been completely revealed during the Livestreams. His gameplay, skills and voice lines were all shown during several streams. He is now ready to demonstrate his strength!
---
Don't forget to tune in tomorrow at 17:00 CET, 16:00 UK, 11AM ET, 8AM PT to Twitch.tv/RonimoGames for the reveal of Deadlift's abilities, his in-game visuals, his voice, and lots more, and join us in the Beta for some custom games!
---