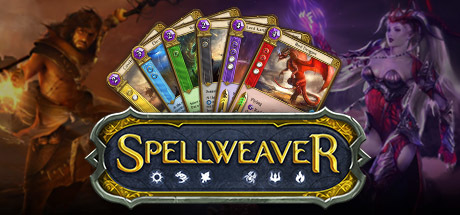 Score: 131,263
Recommendations: 1080 / Metacritic: 63
Spellweaver game
Released: February 1, 2016
Store Hub Workshop SteamDB Steam Charts Homepage
Spellweaver is a free-to-play digital card game true to the classics of the genre, adding in several unique features for a new and fresh gameplay experience. With a focus of strategic depth and variety, it offers endless hours of fun in casual or AI matches, ranked play, drafts, and tournaments!
---
Detailed Description

Spellweaver
is a fast-paced and strategically deep digital card game, featuring several mechanics unique to the genre. Created by an indie team of seasoned game developers, and designed by a Magic: the Gathering National Champion, it is easy to learn, yet challenging for veteran card game players.
One of
Spellweaver's
core gameplay features is hero development. During a game, your hero levels up, gains resources, and can develop
additional hero skills
, letting you craft the perfect hero to complement your deck's strategy.
Spellweaver's
combat system features an innovative
creature speed mechanic
. Fast creatures allow you to dictate how combat goes, but they have generally weaker stats. Slower creatures are bigger and stronger, but they are also easy to outmaneuver.
Spellweaver's
design allows for quick games, yet offers a huge number of combinations and paths to victory to explore. Join in and have endless hours of fun with this strategic card game created with a lot of passion!
---
Reviews
"It's relatively easy for new players to get into, and extremely rewarding for people seeking a layered tactical experience."
9/10 –
2P
"Innovative design that improves upon the core gameplay of 'Magic: The Gathering' in every way."
9.1/10 –
Trading Card Games
"Spellweaver: Hearthstone & Magic: the Gathering had a baby!"
NoxiousGLHF
---
Screenshots